It seems like a simple concept.  You receive your menu board layout, and you send back the changes you want made as well as what you like and don't like.  For the most part that is accurate.  However, there are areas and ways to go about it that will minimize the amount of revisions and the time it takes to get your menu boards in hand.
#1 – The more (information) the merrier   
I tell people this all of the time:
We are the professionals and will give you our creative input based on what we've seen effectively applied in the industry.  With that said, I am not suggesting that we pound our chests, or that we know all and can determine exactly what will work.  That is why we ask for your input; no one knows your business better than yourself.
The reason I bring this up is because yes, we are the professionals, however, when given little to no direction, it is very difficult to develop something quickly and effectively that will be a good starting point for the end user.  This is why the more information supplied, the better.  A few examples of what that information might look like are as follows:
Copy of a print-out menu
Colors of the interior
How far back people will be standing from the menu boards
Any branding guidelines, logos, food images, etc.
Pictures of the location itself
#2 – Take your time
Too often people rush the feedback because there is this great hurry to get to an approval so they can get their menu boards.  Taking your time and being diligent is the single-most way to assure that you'll get to an approval sooner rather than later.  When changes are sent over in dribs and drabs it begins to frustrate designers (trust me) and the turnaround time becomes lengthened.  Alternatively, send all of your changes over at one time.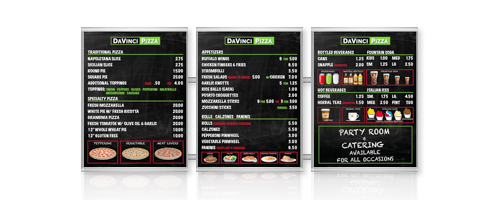 #3 – Make your changes make sense   
On one end of the spectrum I've seen "margarita is spelled wrong" – well where on the 8 panel Italian/pizzeria system is this one misspelling?  On the other end, I have seen clients send over screen shots with specific notes pointing to the exact area(s) their looking to have revised.  In my opinion, there is a happy medium.  Whether it is in a WORD document, Excel spreadsheet or clearly in an email, be specific!  Referencing the panel and menu item makes it quick and easy for the designer to identify.
#4 – Use the Internet as a resource
When working with designers, especially remotely, it can be difficult to clarify colors and pictures.  Quite often, designers will take their best guess based on an initial conversation shared with the client.  That is, of course, if specific pantone colors haven't been provided.  Rather than saying "a little lighter on the blue," look for an image online that contains the color you are looking for.  This eliminates the guess work.  The same goes for pictures.  "My buns don't have sesame seeds."  Ok, so a Kaiser bun without sesame seeds is sent over for approval.  "My buns aren't Kaiser."  Get the picture?  There are a number of royalty food image sites that, in most instances, allow you to find exactly what you are looking for.  Include a link for the designer to pull up so he or she can either use that exact image, or find one in their own library that will match.
#5 – Be detailed about the details   
A lot of times the menu boards are a small part of a larger project.  For example, a new location is opening or a place is being renovated.  When this is the case, the menu boards have their way of finding themselves pretty low on the totem pole of importance.  This fact remains baffling to me.  At the end of the day, what people are ordering from (the menu boards) is the single easiest way to increase sales.  Your customers are already in your restaurant and are relying on your boards to tell them what to order.  I mention this because, as I alluded to earlier, people have a tendency to not spend the time necessary to optimize layout process.  They get hung up on the look of the menu board (colors and pictures) and do not immerse themselves into the details of what's really important – what they're selling on the menu.  If you provide us with pricing that is incorrect, we might not necessarily pick up on it, as we don't know your business/pricing.  Additionally, designers are working on the upwards of 5 layouts a day.  That is a heck of a lot of text and pictures for someone to digest and type out.  Mistakes do happen!  This is why, before typing your layout as "Approved," take that fine toothed comb and look over all spelling, menu items and item pricing.
BONUS – Don't begin the design until your menu is settled
One of the challenges for a designer is making all of the menu items, pricing and pictures disperse well on to the menu boards.  "Fit" isn't an appropriate word because in many instances it is more of a matter of using the available real-estate to have your items and pictures make the most impact.  Once you begin adding and subtracting menu items as you tweak your menu, it really toys with the initial vision of the designer and sometimes a start-from-scratch is necessary, inherently lengthening the time until an approval.
To Summarize:
The layout process is as easy, or hard, as you make it
Taking your time to send all of your changes over at once makes it easier on your designer, ultimately decreasing turnaround time
Supplying as much information as you can off the hop will set your design off on the right foot - the revisions that are needed will then be tweaks vs. overwhelming changes

Be diligent in the review of your layout. Consider the alternative: noticing an error when the menu boards are in your hands, or worse, on display to your customers.
Looking for a menu board company that will take you through a design debrief that covers everything mentioned here?  Have any additional questions?  Give me a call today at 888-235-2579!