November 27, 2012 Long Island, NY – Origin Display Group Inc., a leading supplier of indoor, outdoor, and digital menu boards, today has announced the successful installation of digital and traditional menu boards as well as graphics at a series of collegiate football stadiums and arenas.  The 6 week project included 130 menu boards, seventy-five 40" Commercial Grade LCD screens and twenty-four magnetic graphics.  These systems were integrated at the University of Kentucky, United States Naval Academy and Rutgers University.
At the University of Kentucky, Commonwealth Stadium was officially opened on Sept. 15, 1973, as the Wildcats moved into their new home after spending 48 years at Stoll Field/McLean Stadium across from Memorial Coliseum. Since its opening, Kentucky has played 206 games within the friendly confines of Commonwealth Stadium.  A .529 winning percentage serves as evidence of this fact.  Heading in to this campaign UK's food service provider agreed to replace all of the menu boards in the stadium as well as the woman's volleyball arena.  Origin Displays provided 130 stainless steel menu boards for the football stadium and four 40" digital menu boards for the volleyball arena.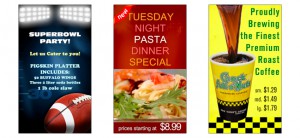 Navy-Marine Corps Memorial Stadium has been totally renovated over the previous four years and transformed into a state-of-the-art multi-use facility hosting Navy football and lacrosse as well as a myriad of other local, regional, national and international events. As a part of their on-going efforts to enhance their fans experience, the stadium added digital menu boards to their lower concourse and swapped out the old magnetic graphics with new in the upper concourse.
Rutgers, the Birthplace of College Football, began playing at the "Old" Rutgers Stadium on November 5, 1938 in Piscataway. The crown jewel venue of Rutgers Athletics is now called High Point Solutions Stadium.  The stadium was expanded in 2009 to its current seating capacity of 52,454. Rutgers, which has appeared in five bowl games over the previous six seasons, won four consecutive bowls during the time span.  This year they added digital menu boards to all of their concession stands as well as parts of the Audi Club.
Vic Pereira, Origin's Vice President of Sales, talks about the stadium jobs in more detail.  "All three of these projects were pending for quite some time and when all of the red tape was taking care of, we weren't afforded a great deal of time.  Add to that, each facility had its own unique set of circumstances and deadlines.  However, to say that we got lucky with the General Managers at each location would be an understatement.  Working with them was a pleasure and we were able to meet all of their expectations and accomplish the goals they set forth in regards to both the traditional and digital menu boards."