April 22 2013, Long Island, NY – Origin Display Group Inc., a leading supplier of indoor, outdoor, and digital menu boards, is excited to announce that there have been several enhancements made to their 'Origin Elite' digital signage solution. The overall additions to the system have moved it from easy, to simple in terms of its user-ability. Users can now create and edit content quicker and easier. The expanded flexibility has also lessened the learning curve and frees the package up to an even wider range of businesses and individuals.
Update Highlights:
1.  Cleaner User Interface
Overall, navigating the system has been streamlined. The most commonly used features of the system have become more identifiable.
2.  Instant Interrupt
This is ideal for emergency messaging or instantaneous promotions in your store.  Schools, malls and hospitals are seen as the key segments that can take the most advantage of this upgrade; however the ability to spontaneously promote items within stores and restaurants remains powerful.
3.  Greater Design Capabilities
Drawing, effect and style tools have been added to further customize the contents of the designs.
4. Custom Widget Creation
The purpose of the widgets from the outset was to create tools that are often used and requested by "the masses."  Of course, not everyone uses the stock quote widget or the weather widget but may have a specific reoccurring need outside of the base items.  Now, you are able to create widgets so that you can duplicate actions with one stroke.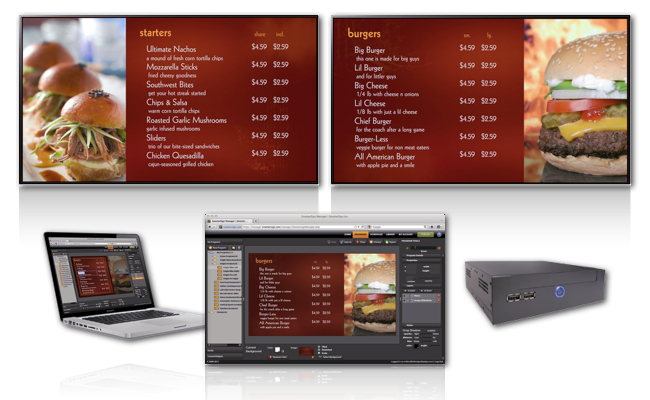 5.  Expanded Template Library
More design templates have been added in both portrait and landscape mode.  Further, these templates have expanded in to several other verticals from the more food-focused templates that continue to exist.
6.  Media Library
Beyond the media items that users upload, there are now borders, additional backgrounds, ornaments and shapes that can be used to decorate the content.
7.  XML Widget – Sync POS to menu
One of the two most requested additions; the XML widget now allows users to integrate their digital signage with their POS system without having to incur the cost of custom programming.
8.  Touchscreen Capable
The other-most requested addition, the solution now has touchscreen capabilities, which lends itself nicely to a wide range of kiosk-type scenarios.
Origin Displays' Partner, Mike Lella, talks about the software updates.  "After months of development, it is nice to see the fruits of the labor in action.  Like anything you use on a daily basis, there is always some concern about adapting to something new.  However in this case, all that has happened is it has become even easier to use with the options more vast.  From day 1, the evolution of this program has had the end user in mind.  With this phase complete, it is clear that the requests for additions have been answered all the while catering to both the owner/operator types and multi-unit folks in terms of functionality."
The updates will be passed along at no charge to Origin's current clients and will be a part of any new client's license moving forward.  Their pricing structure has remained unchanged.