March 14, 2013 Long Island, NY –Origin Display Group Inc., a leading supplier of indoor, outdoor, and digital menu boards, have successfully designed, developed and installed new menu boards at one of the largest Ralph's Italian Ices on Long Island.  The store, which is located at 1370 Middle Country Road in Centereach NY, is also one of the few Ralph's Italian Ices that is a walk-in which features ice cream cone shaped tables and an ice cream sundae bench.  The new menu system sprawls over 20' of wall space and makes use of vibrant colors to match the Ralph's brand that many locals identify with.
Founded in 1928 by Ralph Silvestro, Ralph's Italian Ices has grown in to a company that has over 80 locations spread throughout Staten Island, Long Island, New Jersey, Queens and Manhattan.  They pride themselves on having the "best Italian ice in New York" which they feel is derived from their secret recipe that has been passed down from Ralph Silvestro to his three grandsons who now run the company.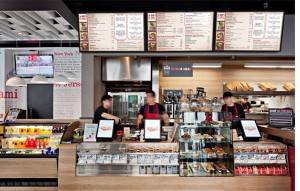 Entering their second year owning and managing the Selden/Centereach location, Lori Belson and her father Mark Lewis are one of the newer franchisees to the Ralph's family.  They decided to purchase their own Ralph's franchise after many years of enjoying Ralph's Italian Ices with one another.  Their goal from day one was to "strive to make it the most unique location." After a successful first season they were still able to identify areas they would like to upgrade; one of which was the menu boards.  Lori discusses how that project came to be:
"Going into our second season, we ran into a challenge with our menu boards.  Since our available flavors can change frequently and new flavors are introduced monthly, it was difficult to accurately represent our menu items with our permanent menu board.  I had decided after our first season ended that we had to make some changes.  In addition, we wanted to create a visually appealing experience while our customers enjoy the best Italian ices!  I did an internet search for local businesses that create menu boards and found Origin Displays.  When I met with Vic (Origin Displays' VP of Sales & Marketing), we decided together that magnetic menu boards with magnetic strips would be the best solution for our store.  We can easily change out flavors that are not in stock and add new flavors when necessary.  Our menu boards now look great and they are extremely functional!  They also integrate so well with the design of our store.   Vic and the rest of the staff at Origin have been an absolute pleasure to work with. I enjoyed being involved in the process and I appreciated their patience as I changed my mind often.  The end result is now perfect!  I look forward to working with Vic and Origin Displays on other projects in the near future."
Lori and Mark open their Ralph's Italian Ices location for its second season on Friday, March 15th, 2013.