Your menu boards have been designed, produced and delivered. They are the shiny new object for your restaurant. Days turn in to weeks, weeks turn in to months and sometimes those months, they become years. Over the course of time the menu boards get dusty, stickers are placed over prices, and the strips become sparse.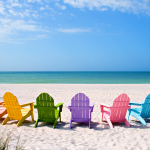 The picture I am painting is a relatively common one where people make the investment but fail to protect it over time. Whether your menu changes over time or not, it is important to give your signage a facelift here and there to keep things clean, fresh and engaging for your customers. What better time to do this than in the summer. Why and how you ask?  Let me explain.
Reason #1- More options vying for your customer attention
Come the summer there are a lot of attractions outside the restaurant industry that pull people away. What your objective should be is to position your restaurant as the logical choice for a quick stop for lunch or on the way home.  There are a variety of ways of achieving this, but having fresh, relate-able content is the most effective thing you can do at the local level. 

Reason #2- Stay relevant
Summer or not, it is important to adjust to what the market is asking for.  I am not suggesting that you start offering Chinese food if you are a Pizza joint, but perhaps you offer or promote something fresh (salad) or cold (iced coffee) during the summer months to correlate with the weather.  In addition, by making changes it subconsciously conveys your commitment to your business and customers.     

Reason #3- Shift in mindset
Similar to "staying relevant," when the summer comes people tend to re-calibrate their purchasing decisions based on their mindset.  This is often filled with thoughts of keeping cool and eating towards their ideal beach body.  Put it this way, there isn't a lot of Soup being consumed in the summer.  

How #1- Utilize one panel for your seasonal specials
This is contingent on your available space but having a dedicated panel that is the focal point of your system is an effective way to get your message out. The importance of swapping this these out semi-regularly cannot be understated.  

How #2- Display fixtures
We have outlined a number of display fixtures that are proven to increase sales in the past. The nice thing about these displays is that they are easy to access, easy to change, and the content (usually a poster) are inexpensive to reproduce.  

How #3- Change the background theme of your menu boards
This is particularly ideal and cost-effective if you have an intuitive digital menu board system. Picture this, snow falling in the background in December or a beach setting in the background in July.  Fear not about losing your branding. If you chose to go this route, you could steer the design to be cohesive with your overall look, all the while keeping your customers engaged.  

Can you think of any other reasons why the summer is a good time to give your signage a boost? Let us know. Email us at info@origindisplays.com or give us at 888-235-2579.  Have a comment?  Leave it below!