April 30, 2013 Long Island, NY – Origin Display Group Inc., a leading supplier of indoor, outdoor, and digital menu boards is proud to announce their working relationship with The Barn drive-thru convenience stores on Long Island.  This partnership was established in June 2011 and Origin Displays continues to work with The Barn as they take over stores throughout the area.
The Barn stores are a family owned chain of drive-thru supermarkets on Long Island. These stores were formerly operated as the well-known and nostalgically-laden Dairy Barns.  One by one, The Barn has taken over these locations and added some healthy alternatives to their offerings.  Their mantra is "Fast is always Friendly ~ Fast is always Fresh," and making their customer's shopping experience easier and more pleasurable is their goal.  With only a small handful of stores left to claim, The Barn is set to continue the Dairy Barn legacy at another level.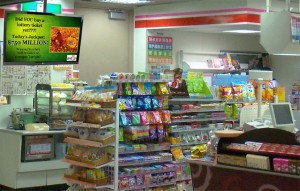 Since they began working together, Origin Displays has become the trusted liaison for everything and anything signage for The Barn.  From design services to installation, Origin Displays has done it all.  What started out as a large installation roll-out of LED cabinets to display menu items has become a relationship centered around converting locations, managing relationships, and graphic maintenance.  Origin has worked closely with Chock Full O'Nuts on a number of their marketing pieces at the stores as well as Hostess Brands, Sabrett, DiGiorno Pizza, Haagen Daz, etc.  Examples of the products Origin has provided include road-side signs, silo decals, promotional graphics, and a number of different banners.
Origin Displays' Partner Mike Lella, talks more about working with The Barn. "Our primary point of contact with The Barn is Aegina Angelides who, for all intents and purposes, runs the show for The Barn.  The impact that she has had on the locations is evident from being on-site.  She has created a pleasant and personable environment which is reflective of her personality.  As far as the work we do for The Barn, Aegina is quick to hold us in check but also very trusting in our products and services.  We hold the relationship that we have with The Barn among the top and have enjoyed growing alongside them."