Another week is upon us which means it is time for another blog.  As for this week, I thought I would talk about something that donned on me after I strolled in to a couple of new quick-service places for lunch last week.  Being that I come from the industry you are reading about, I tend to micro-focus on how different places do different things.  As is with any new business, there is this age-old saying from "Field of Dreams" that people tend to agree or disagree with:
 If you build it, they will come.
Some would argue that in business, "If they come, then you build it."  I personally think that the right approach lies somewhere in the middle.
So, how does this relate to the new restaurants I visited last week?  Well, one location (Churn) was suggested by a friend based on a healthy balance of portion for price and food quality.  The other (Toss Up), I simply noticed as a new place in the neighborhood and thought I would give it a try.  Each of them took very different approaches in terms of out-of-store and in-store marketing, branding and promoting.  By differences I mean that one has done very little and the other has done a lot.  Before you ask, I would say that the food was on par with one another.  So I got to thinking, based on perception, which one of these restaurants has a better chance of making it.  From where I sit, I believe the answer was easy.  Let me paint a picture for you:
You are in the market for a used car and a family sedan will suit your needs nicely.  The first one you look at is a 2003, has 100,000 miles on it, no history of accidents, but has some cosmetic imperfections – scratches, dents, chips in paint.  The next car you look at shares the same characteristics with the exception that the body of the car is in noticeably better shape.  The price is relatively the same.  Which one are you going to choose? 
The answer is pretty obvious.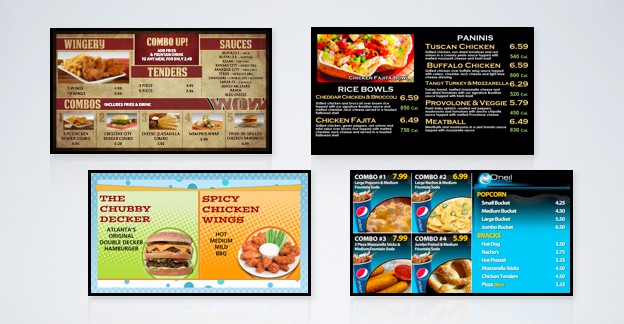 Now getting back to these two restaurants; as I approached Churn, which was located in a strip mall, I quickly realized that I would have walked right past it if I wasn't given some prior direction.  Their channel letters were dimly lit, there was no freestanding display outside for foot-traffic, and there was nothing on the windows except for the restaurants hours.  Upon entering, it was more of the same.  It wasn't clear on where or how to order, the menu boards were Coke freebies, and the folks behind the counter were in street clothes.  The condiments area was a disaster and overall, the place was shadowy and uninviting on the surface.  Don't get me wrong, the people were nice, and large portions and a good price are enough to satisfy this cowboy!  Lastly, as I always do, I took a take-out menu that was two-color and went to check out their website, or in this case, lack thereof.
Switching gears to Toss Up; being a standalone unit in a mall parking lot, it is tough to miss.  More impressive, however, was their completely cohesive look and feel.  Their awnings had their logo on them, and the windows had frosted logos too. Their marquee was bright and vibrant, and as you entered through the doors, there were clean and clear poster promotions in snap-frames.  Once you break the threshold of the entrance you notice way-finding signage right away.  "Order here," and "Pay Here," signs are obvious, as is their "How we do it" sign that is located on the wall next to their menu boards.  The place is clean and bright.  The people working the counter are wearing matching uniforms and hats.  In stark contrast to Churn, their take-out menus are colorful and crisp and their website exists, matches the brand and has online-ordering capabilities.  All in all, this "Mom & Pop" restaurant looks, acts and feels the part of a chain.
At the end of the day I know I am taking some broad strokes.  There are several other factors at play:
What type of funding / start-up capital did each one of them have?
Did Toss Up have an outside agency help them?
Did Toss Up overextend themselves and mortgage the farm on their location vs. Churn taking the ultra-cautious approach where they could more easily survive a failure?
I don't know what the odds are, nor do I think that there is a reasonable way to calculate who will thrive or even last longer, but at the end of the day I question what Churn is doing.  Look, starting your own business is no easy task; it takes guts, wherewithal and hard work.  I don't for a second challenge the fact that the Churn owners possess these qualities – but I do think their efforts may be misplaced.  However sometimes your guts have to check in with a well thought-out business strategy or "jumping in with two feet" could be a costly mistake.  Think of it this way, if you developed what you thought to be the next best widget, would you get a storefront and go to market as soon as possible?  Or would you refine the widget?  Would you do some market research to find out where and how to sell it, and to who?  What are consumer behaviors in this neighborhood?  Would you ask yourself, "Would they know what it was if they heard the name or saw the logo?"  You'd like to think so, right?
There is a sales saying, "fake it 'til you make it," and I tend to (somewhat) agree.  If you have read any of my other blogs you know I am all about "managed growth."  I always say, "It has to make business sense."  But does it make business sense to do no advertising?  No!  Does it make sense to do too much?  No!  Does it make sense to have the top of the line POS system that is scalable for your (wishful thinking) future stores right out of the shoot?  No!  Can you get away with some cheap menu board options until you get better handle on week over week sales?  Yes!  It has to make sense.  However if on the surface you are perceived as bigger, more polished and reputable, 9 times out of 10 it is not a bad thing!
If you build it they will come – too risky
If they come, then you build it – too conservative
How about pouring the concrete, setting the foundation, showing drawings of the finished product, and then finishing the construction when they come?  – sounds good to me!
Are you now thinking that it might be time to take your restaurant to the next level?  Give us a call today and we'll do our best to help you out!  888-235-2579