In a recent QSR Magazine article, they released the findings of a 2012 drive-thru study that analysed the speed and accuracy of the drive-thru operations at McDonald's, Burger King, Krystal, Wendy's, Taco Bell, Chick-fil-A, and Bojangles.  The results of the study are interesting in their own right, but more valuable to owners/operators of drive-thru locations are the takeaways that this study provided.  Many executives weighed in with feedback on their specific areas of strengths and discussed areas for improvement. Sprinkled throughout this article were 10 clear ways to increase drive-thru speed and accuracy. Not all suggestions would be palatable for more regionalized, smaller, single-unit locations, however, some wouldn't require another nickel being spent.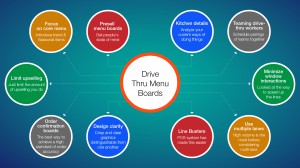 1- Focus on core menu: Virtually all menus evolve over time. Whether it is an attempt to capture some market of a growing trend or introducing seasonal items, it happens.  Most people visiting the drive-thru are looking for your signature items; therefore this is what should be displayed.  Further, these items should be able to be turned around quickly.
Denny Lynch, senior vice president of communications at Wendy's: "You want a chicken sandwich, and you want mustard, pickle, onion on it? OK, I get the chicken fillet, the mustard, pickle, and onion, put it on a bun, wrap it up, and you've got it.  You want a smoothie? OK, I've got to get the ingredients, I've got to portion out the ingredients, I've got to put it into a blender and smooth it.
"Because of that, you put the stress on the speed of service at the pick-up window. … I think that has influenced the total speed of service."
2- Presell menu boards: In high volume locations, presell menu boards are helpful in getting people into the ordering "state-of-mind."  Much smaller, these signs can be used to promote any specials or limited time offers.  In doing so, it will leave the main unit uncluttered and solely displaying the core menu items.
Brian Baker, president of Insula Research: "When you're going into new markets, I think it would be even more important that you give people the opportunity to familiarise themselves with your menu before they get to the order point."
3- Kitchen details: Efficiency is the name of the game here. With a lot of moving parts from getting the order into pushing it out the window, it would be helpful to analyse your current ways of doing things. The easiest way to do this is by creating a spaghetti diagram. By performing this exercise you'll quickly notice areas for improvement.
More from Denny Lynch: "One of the things that we're constantly looking at is 'How do we prepare for our rush periods and a pre-rush period?'  How can we get our condiments, utensils, napkins, and all of that prepared, so that when a lunch rush comes, you're highly efficient?  You're not having to run to the back room to get supplies; they're all appropriated by the pick-up window right in your space. So those are things that you've really got to be ready for."
4- Teaming drive-thru workers: Much like you see on successful sports teams, players develop chemistry over time. This allows them to play freely off each other, know what they'll do next, and continue to get better (more efficient) at what they do. Do your best to schedule pairings, or teams, together so they can create this same dynamic.
5- Minimise window interactions: A trip to the window for money, a trip to the window with the change and receipt, a trip to the window for drinks, a trip to the window for silverware, a trip to the window for condiments and finally a trip to the window with the food. This is far too many window interactions. Condiments should be asked for when the payment is received and placed in the bag of food. Same goes for the silverware and napkins. Drinks of two or more should be placed in carriers and the change is given back when the drinks are handed over.
Kenneth Avery, vice president of operations at Bojangles: "Every time out the window is a second, so we started setting things like, two or more drinks automatically go in a carrier; now you're out the window one time instead of passing the drinks out individually. So we've looked at some of those things as a way to speed up the line."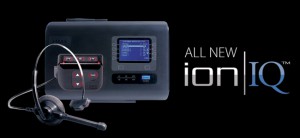 6- Use multiple lanes: There are conflicting opinions on dual lane drive-thrus. In McDonald's case, they are seeing the benefit of dual lanes. In Taco Bell's case, the cost-benefit for a "situational" need hasn't been in favour of adding another lane. One thing is for certain, high volume is a must before considering a multi-lane drive-thru.
McDonald's spokeswoman Danya Proud: "Multiple lanes provide the ability to have multiple order points, which is an effective way to increase the number of guests a restaurant can serve."
7- Line Busters: Personally, I don't see much of this, but would definitely like to.  All the executives who had input suggested that they have a line-buster at some of their busiest drive-thru locations.  These are individuals that go outside and take orders while people sit in line. Evolution of technology has made this easier than ever. Orders can be taken on a tablet outside and automatically entered into the POS system.
Kenneth Avery submits the following: "When you're in a situation where you've got great volume, great velocity, and you need to get more cars in and off your lot, an outside order-taker can be one of those things that can help you do that.  That outside order-taker [also] allows us to be more accurate because we're having that person interact directly with the customer and then relaying that inside in our language, so we know exactly what our customers want and we get it right."
8- Design clarity: Many locations have this backwards. The focus on design clarity is often spent on the indoor menu boards - the place where people have 100% access to the signs once they enter the building. Conversely, you only get to read what is on the drive-thru menu board when you pull up to it.  In order to positively affect turnaround time, it is critical that these graphics are straightforward; each category (i.e. sides vs. combos vs. desserts, etc.) should be distinguishable from one another, the images should be crisp and clear and the font should be legible in size and aligned.
Krystal CEO Doug Pendergast: "We're looking to make it easier for them to buy what they'd like to buy; easier to evaluate their choices; and encouraging them to buy items that we think will not only drive satisfaction but will be efficient for the kitchen and the team to execute."
9- Order confirmation Boards: These boards spell out your order back to you in (close to) real time on a LED screen.  This is far and away the best way to achieve a high standard of order accuracy.  It also helps those ordering to notice if they have forgotten something.  Nothing slows down a drive-thru more than an in-addition-to order at the window.
Denny Lynch adds: "We've found that customers truly appreciate seeing their order keyed in right after they order it, and that helps them make certain that they've said everything they wanted.  Sometimes customers forget that they wanted a Frosty, or they forget to tell us. So it's verification, but it's also verification that the employee heard them correctly and keyed it in correctly."
10- Limit upselling: When people go through the drive-thru they naturally place their order.  Next, comes the dreaded upsell.  The upsell is great for doing what it is intended to do, which is to make incremental sales, but in terms of speed, it slows things down. What you are doing is now offering more options that need to get pulled over (sometimes by a handful of people). Order confirmation screens can be programmed to do the same.  We're not suggesting that you do not upsell, just limit the amount of upselling you do.
When it comes to speeding up your drive-thru or attaining the highest level of accuracy, is there anything that we have missed? We'd like to hear your ideas. Email us at  info@origindisplays.com or give us a call today at 888-235-2579 and let us know!