We all know that when it comes to buying anything in life, certain people fall in to certain buckets. There are some that can afford the Mercedes, whereas some have to go the used Sedan route. The car industry doesn't discriminate and in most cases one (car) finds another (buyer). The saying, "there is some-thing/one for everyone" rings true in this scenario and in many others in life. The same goes for menu boards, however there seems to be an issue identifying the sedan – the practical and functional solution – of the industry. Most companies go to market with their standard product line that highlights various backlit, front-lit, or non-illuminated options. What most people don't realize is that a lot of these companies have professional looking, economical menu board systems that may be tucked in different areas of their website or catalog.  Put another way, they could be found in categories such as, accessories, display fixtures, POP signs, etc.
So now that you know where to look, I'll give you a couple of ideas of what to look for. Beforehand, I feel that I should add some sort of disclaimer.  You see, although the end product of each of these WILL look good, they are not long term solutions. What they provide in the way of cost effectiveness and a polished look, they lack in flexibility and, in some cases, durability. This aforementioned bucket is reserved for those with a limited budget but understand the importance of design and the science of laying out a menu board. Even though you could get the same or similar physical board from a sign company, you would be doing a disservice to yourself and company if you undervalue the design aspect of not only your menu boards, but all signage. With that said, the following are some solutions that can and will work:
#1 – Snap Frame Graphic Holders
The snap frames accommodate both poster and paper prints under a protective clear or matte lens. All sides snap open for easy change-out of graphics. The graphics themselves could be designed and printed to size on your own, or done so by a professional company (highly encouraged). Remember, once the design is complete, the future maintenance (changes in pricing and items) is very easy for these companies.  They access a file, make the quick changes and print.  In all instances, the cost of design and cost of the actual poster print have to be considered independently.
#2 – Mounted Graphics
These have the ability to be contour cut so that you can dodge the tired look of square and rectangular poster frames. The mounted graphics tend to provide a higher level of durability. Typically the graphics are mounted on sintra, corrugated plastic, foam core or gator board. The benefit to this is it gives the graphics some dimension which will help them stick out more than the other options. Static clings (low-tac stickers) can be used more readily for price changes but changing items would be reserved for a whole new board.
#3 – Graphic Holders
Graphic holders usually have two pieces, one for the top of the poster and one for the bottom. Some only allow for a ceiling suspension and others provide a backing to be wall mounted. Be sure to clarify this with the companies you are working with. There are a number of profiles available, so finding sizes that will fit shouldn't be an issue. Similar to the snap frames, the graphic maintenance tends to be low cost but using static clings on a poster/paper print usually doesn't work well.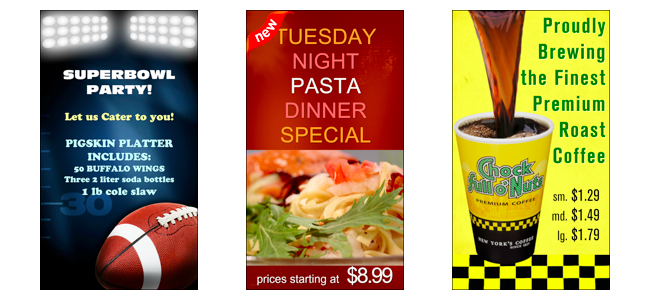 Keep in mind…
Beyond these options, be sure to speak with a representative of the menu board companies you are researching.  If you are not on their mailing list, there is a good chance that you may be missing out on a promotion that they are running.  Additionally, there may be some discontinued items, a surplus of inventory, or showroom displays that you could pick up at a discount.
To Summarize
Here is a review of the main points of this blog post:
If money is tight, there are still ways to achieve a professional looking menu board system.
Snap frames, mounted graphics, and graphic holders all present unique menu board options at a reasonable cost.
The importance of the menu board design should not be undervalued. Just because you own a restaurant doesn't mean you are qualified to design a menu board.
These solutions should not be seen as long term fixes, but as a stop gap until the funds are able to be allocated to a more long-term, impactful and flexible system.
For more information on how to find and buy a good looking, cheap menu board system, CLICK HERE