If you want to maximise your revenues and streamline your customer's dining experience, you need a system built around modern drive-thru menu boards that communicate with your point-of-sale system.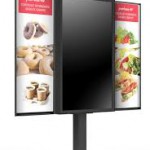 Instantly update your message:
Digital Signage Displays can work for the hand in glove with your POS system. The moment you update a price on one or more item, the information is directly conveyed to your digital menu board. There are no delays, and no effort or money is wasted in creating and deploying painted notices.
Do you run multiple restaurants? Then the message can be sent to the digital displays in all your restaurants, or maybe just those in a particular region. It's all under your control at the push of a button. You can even deploy separate menus at different times of the day. And it's great for your marketing efforts – you can find out what sells best in which location(s) during what time of day.
Help your customers decide what to eat:
Since the days of Don Draper, it's been known that customers of all sorts are indecisive. They want to be led, and that's just what you can do with your digital display system. Do you have a menu item you want customers to buy? It's a proven fact, backed up by innumerable marketing studies, that the surest way to make that happen is to portray your newest creation, in all its mouth-watering glory, front and centre in the middle of your digital menu board. Works every time, and by the time they punch in their order or reach the cashier, their mouths be watering!
Upselling
What's a hamburger without fries? What's a taco without beans and rice? With a modern digital display signage system, when a customer chooses an item, a suggestion to buy sides or drinks to complement her primary choice can be made, and it's a rare customer who doesn't take the hint. It's a win-win situation, both for their mealtime enjoyment and for your bottom line.
 Origin Display Group | originmenuboards.com | origindigitalsignage.com | 888-235-2579
Gary Elinoff