Self–service kiosks are the next step in the maturation of digital signage technology. The kiosk, your POS system and your digital menu boards can be seamlessly integrated by your digital signage provider, and together they will provide a powerful boost to your bottom line.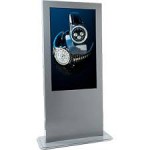 Empowering Customers- Millennials, who grew up online, are far more at home buying online than they are at brick-and-mortar venues, so it's not surprising to learn that they are also more comfortable ordering their meals from kiosks than from human employees. Marketing confirms that they buy more food at each visit, too.
There are also far fewer time-wasting errors when customers order digitally. With a restaurant menu board as either part of the kiosk or in close proximity to it, your suggestions are literally hitting them in their wallets as they are deciding what to order, and electronic upselling opportunities are yours for the taking.
Marketing Options for You- Digital kiosks have electronic memories that can record the customer's every move, and they can be studied later on to gain unparalleled insights into your customers' purchasing behaviour.  And you can make some moves of your own! At just the right predetermined moment, your kiosk can suggest fries or a drink go with that burger, or perhaps a meal combo to make it easier for the customer and more profitable for you. And, there is also the instantaneous opportunity to offer a coupon. This might be for right now, or perhaps as a monetary inducement for them to return to your establishment sooner rather than later, to try a new delicacy on their next visit.
Simpler is Better- Too many choices can overwhelm your customers, causing them to take too much time making their decisions, which results in the slowing down of your throughput. The marketing information you'll gain from the use of digital kiosks can help you to narrow down your menu offerings to what your customers want on any given day of the week and on any time of day. A simpler, more powerfully focused digital signage display can improve your customers' restaurant experience, as well as your bottom line.
Origin Display Group | originmenuboards.com | origindigitalsignage.com | 888-235-2579
Gary Elinoff