Digital signage at any level of education serves a broad audience: they can be used in the cafeteria to list menu items, in the school store to sell merchandise, and in the hallways to convey sport scores, emergency messages, upcoming events, and campus news.  Additionally, educators can use this medium to communicate to students, staff, parents and the community. Depending on how much "fun" you wan to have with it, the possibilities are endless.  However, noticeably absent from this list is the benefit digital signage can have on the nutrition and eating behavior of the students staring up at the screens.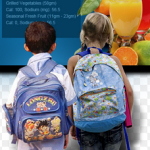 At the risk of sounding dramatic, childhood obesity continues to be an epidemic in the United States.  Seedlings of this issue are seen through the natural progression of life from infant > child > teenager > adulthood.
Consider the following:
Childhood obesity has more than doubled in children and quadrupled in adolescents in the past 30 years. The percentage of children aged 6–11 years in the United States who were obese increased from 7% in 1980 to nearly 18% in 2012.
More than one-third (35.7 percent) of adults are considered to be obese. More than 1 in 20 (6.3 percent) have extreme obesity. Almost 3 in 4 men (74 percent) are considered to be overweight or obese. The prevalence of obesity is similar for both men and women (about 36 percent).
Doctors and scientists are concerned about the rise of obesity in children and teens because obesity may lead to the following health problems:
- Heart disease
- Type 2 diabetes
- Asthma
- Sleep apnea
- Social discrimination
Depression and obesity have been recognized as major public health issues in youths. Although they have traditionally been compartmentalized as separate physical and emotional health conditions, evidence suggests interactions and common pathways between them.
I think you get the point.  So how can digital signage be utilized to combat these issues?  I have a few ideas that I'll provide general context to.  They can easily be tailored to the school, demographic, curriculum, etc:
Use the dynamic playback abilities to engage children- with many children sharing the same attention span to that of a gnat, it is important to grab their attention with content that relates to them.  Above and beyond, it needs to move.  A static image simply does not garner the same recognition as a screen with transitions, videos and flash effects.
Deliver "did you know" messages reinforcing the importance of healthy eating and exercise- Now that you have their attention, use "did you know" facts that will appeal to their level of knowledge and relate to them.  For example- "Did you know exercisers can improve their performance by 15% if they listen to music while working out?"  It is important to change this message semi-regularly.
Correlate healthy eating around a student's typical school day- Take a look at the day-to-day class schedule (when the bell rings) and create menus around it for the students.  Taken further, reinforce the menu throughout the day.  Assuming that kids should arrive at school with breakfast in their bellies, snacks and lunch should be the focus.  Imagine walking through the halls of your second class and having all of the screens suggesting "It's time for a healthy snack" with various images and options being shown.
Educate! Use images and stats to show both the benefits of healthy eating and exercise and conversely, the result of doing neither.
Use QR codes to redeem points for healthy snacks- With the vast majority of kids having smart phones nowadays, why not use QR Codes to attract students to the screen.  The directions you could go with this are limitless but some sort of point redemption for healthy snacks or a meal in the cafeteria could go a long way.
Involve students in the messaging- Any time you can get the students involved and make them a part of the program you have not only empowered them but you've also created foot soldiers who are going to point their work out to their peers (on the screens).  Their source of input can and should involve everything we're discussing here as well as outside-the-box approaches to connect with those on the same social and cognitive level.
Create a touchscreen game- Almost like an old-school arcade where you have a stand alone screen that is centered around nutrition and exercise.  Top scorers are able to leave their name and are left there as a benchmark for challengers to top.
Entice the students with "extra credit"- This is perhaps the only time that cheating would be acceptable. The reason being is that if a student gets the answer from someone else they are inevitably going to retain all or some of the message.  To clarify (and for example), every week you can display a different 1 or 2 facts about nutrition and/or exercise. Pick a class and have the students submit the facts on the following Monday once the 1-2 NEW facts are showing.  For those who correctly regurgitate the information, they are rewarded with some form of extra credit.
Millennials, Generation Z and the one to follow have become increasingly tech savvy and tech reliant over time which has its benefits and its drawbacks. One of the main challenges is the competition for attention. With essentially any game, text message, app, call, FaceTime, etc just a click or two away, this issue has never been so difficult to overcome. However, by integrating some of the suggestions above, you'll stand a much better chance at making an impact than by simply posting the Healthy Eating Pyramid on the wall.
Thoughts?  Comments?  Questions?  Suggestions?  We'd love to hear them all.  Email us at info@origindisplays.com or call us today!  888-235-2579