Drive-thru Headsets are a must have for any drive-through restaurant. Combined with a speaker box, through which a customer can speak directly to the cashier while he's still waiting for his moment at the checkout counter, they are in many ways a potent force enhancer for your organisation. Here's how.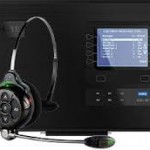 Drive-thru headsets are force enhancers- There's only so much information you can include in your Restaurant Message Boards, regardless of whether they are Digital Menu Boards or old-style static boards. Study after study concludes that too busy a board creates confusion, frustrates customers, slows down throughput, and results in less food being sold.
If a speaker box is located near the signage, the customer can communicate with the cashier, and the cashier has that Golden Opportunity to up-sell. That burrito turns into a Mexican plate, and some fries and a shake make the journey to your customer's plate along with that juicy, succulent burger pictured on your Restaurant Menu Board. When Ms Customer reaches the cashier, nary a word needs to be exchanged between the two, which is what most of your best millennial customers are known to prefer.
Considerations when purchasing drive-thru headsets- One of the main decisions to make when you are considering your purchase of Drive-thru Headsets is whether to opt for the older style wired headset or the more modern wireless variety. Wireless technology as a whole has made great strides in the last few years, and Wireless Headsets purchased from a reputable supplier are now as reliable as all other good commercial grade equipment.
Another consideration is the comfort, because what's the good of it if you have to wage war with your staff to get them to wear the devices? Wireless devices don't require troublesome battery packs on their waists, and in any case, the wiring between the headset and the battery pack is an accident and lawsuit waiting to happen.
And a final note: don't scrimp. Concert quality sound isn't necessary, but the combination of the speaker box and the Digital Headset must ensure solid, reliable communications between your staff and your customers to bring home the benefits of this exciting technology.
Origin Display Group | originmenuboards.com | origindigitalsignage.com | 888-235-2579
Gary Elinoff