Sure, speed is still important. Customers come too fast food drive-thrus because they have busy lives, and time is of the essence. But, it's not just about a burger, fries and a drink or a shake anymore. There are more choices for consumers to make as meals have become more complex. And, every choice is an opportunity for up-selling.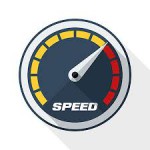 New Paradigm for Drive-thru Performance
There's a lot of ground to cover. Does the customer want that item à la carte or as part of a combination plate? There may be a choice of salad dressing to be made. For a side dish, will it be rice, pasta, fries or onion rings?
Because of the complexity of modern menus and the choices customers need to make for an ideal meal experience, drive-thru times for the typical customer has actually begun increasing in recent years. Across industry leading national chains, the average wait time is now almost four minutes.
Because of the sheer popularity of drive-thrus, there are simply more cars to be serviced in any given time period. While operators are beginning to compensate for this by adding second drive through lanes, contrary to what might be expected customers simply aren't complaining about the longer delays. This may be because so much of that time is spent with pleasant interaction with the human-engineered digital display system and with today's better-trained fast food personnel.
What do today's customers want?
They want to get their increasingly complex and customised meals exactly as they expect them – right the first time with no mistakes. Pre-sell signage helps them to zero-in on what they want quickly with less ambiguity. Order confirmation boards that tell them what they will get, and what the cost is. If they have a certain dollar amount that they want to spend, they can easily avoid exceeding it. And best of all, a sophisticated digital signage display system makes upselling automatic is it can be configured to suggest additional items to the customer based on what already has been ordered.
 Origin Display Group | originmenuboards.com | origindigitalsignage.com | 888-235-2579
Gary Elinoff