One of the great contradictions in the QSR industry is that although over two-thirds of revenue is derived from the drive-through lanes, it is a most neglected area in terms of investment.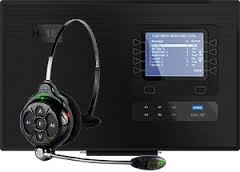 The managerial mindset is focused on the dining room, even though most of your diners eat the meals that they buy in their cars. This is a most self-defeating attitude, because most of these customers, your most valuable customers, never step past your doors and the never even see the dining area.
Drive-Thru Headsets are the essential link between your staff and these most valued customers. Sure, your customers are attracted to your place of business by your Drive-Thru Menu Boards, but the only way your staff can find out what it is that they want to buy it through their headsets, and your customers, in turn, can only learn if their orders were received and understood via your Drive-Thru Speaker Posts.
An important consideration is a choice between wired and wireless headsets, and both have their advantages and disadvantages. Traditional wired headsets require your staff member to wear part of the mechanism, including the battery pack, on his belt, with a wire connecting the headset portion to the belt unit. The wire can cause many types of hazards in a hurried, stressful QSR work environment. On the other hand, a wireless headset, encompassing the total mechanism, is actually heavier than the headset half of a wireless headset system. Over a long shift, this may cause some employees considerable discomfort, or even headaches.
Noisy environments are a fact of life in QSRs, and they can make communications difficult. That's why one of the most important features of Drive-Thru Headsets is their capacity to reduce noise. Effectively building this feature into the devices is costly, and will be reflected in the price of a quality system. But, what could be more frustrating to a customer than the need to repeat an order, and what could make him less eager to pay a return visit? An investment in as solid Drive-Thru Headset system will pay for itself many times over in happy customers and more repeat business.
Origin Display Group | originmenuboards.com | origindigitalsignage.com | 888-235-2579
Gary Elinoff