In the early days of Digital Menu Boards, some of the earlier adopters were simply "blinded by the science". They bought and installed the devices simply because they were the latest and the greatest, and also because they are just simply a delight to look at.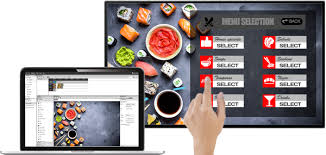 Nowadays, QSR management asks itself what, specifically, will these electronic marvels accomplish for the business, and if there will be a positive return on the investment.
The Three Phases in the Exploitation of Digital Signage
At first, management may be content to simply display the old printed menu in the digital form. That in itself garners significant value. Many of the QSR's best customers, the young, are addicted to their smartphones, and they will see Digital Menus as extensions of their smartphone digital screens. This new way of communication is bound to capture their attention in a way that no painted or printed menu can.
Next, management will sit back and start to plan ways to exploit Digital Signage in the most efficacious manner for their own specific methods of operation and their goals. Finally, once management has become sufficiently comfortable with their new system, they will integrate their Digital Displays with their POS and inventory management systems, and even take the first steps toward adding in some advertising and entertainment.
Reaping the Benefits 
It's a well-documented fact that once you've incorporated some entertainment into your Restaurant Menu Boards, a five-minute wait for service will seem, to your customer, like a three-minute wait. If that entertainment takes the form of advertising – even better! Your happy customer will want to return more often, and most likely spend more, too.
Cutting Costs While Embracing Change
No more trips to the printers every time you want to make even the smallest change to your menu. Now, you can embrace changes rather than dreading them process. If it's dinner-time, a few clicks on your smartphone removes the breakfast menu and uploads the dinner menu for your customers – they aren't burdened by choices that aren't available. And, on the same token, if you run out of salads, tacos, or anything else, you can electronically remove them as choices on your Digital Display Signage, and avoid disappointing your customers.
Rome wasn't built in a day, and it will take time and experimentation to get the most out of your Digital Display Signage, and the best time to start is – NOW!
Origin Display Group | originmenuboards.com | origindigitalsignage.com | 888-235-2579
Gary Elinoff