Because your presell Menu Board is the first message your customer sees after he enters you QSR's drive-thru lane, it sets the tone for his visit to your establishment. It's your one chance to make a great first impression.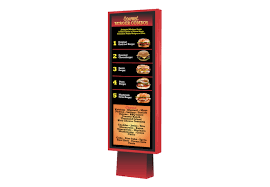 Keep it Short, and Keep it Clean.  Remember, it's a presell menu board, not a complete menu; so don't try to tell your whole story here. It will only impinge on the customer's field of vision for a few seconds, and she will be driving her car, managing her kids, talking on her cellphone and doing who knows how many other things, all at the same time.  Above all, don't confuse or overwhelm your customer. Everything here must be sharp, clear, and above all – concise.
Highlight What's New and Different, things that he may not know about already. Prime examples are meal specials and any limited time offers. And, if your presell Menu Board is digitally powered, you can quickly highlight any perishable item that you need to move quickly before it spoils.
Rotating Presell Drive Thru Menu Boards for Dayparting. The typical QSR offers different menus at different times of the day; so it will be logical to change the message on you drive-thru presell Menu Signs. After breakfast is over, an employee can be delegated to quickly and easily rotate the menu to reflect your lunchtime presell message.
Change your Message – Often. And not only when breakfast is over and lunch begins! To keep your customers engaged, you have to keep the presell message exciting and new. Familiarity breeds contempt in advertising, just as it does for almost anything else. If the customer keeps on seeing the same tired old message, it blends into the landscape, and will eventually be ignored, and a wonderful opportunity to tell a brand new story will be lost.
 Origin Display Group | originmenuboards.com | origindigitalsignage.com | 888-235-2579
Gary Elinoff