So it happened again, and it won't be the last time.  I shared a couple of conversations with an individual who was looking for menu boards.  She did a search on Google, and BAM, there we were.  Similar to most chats, we talked about different options and of course, price.  Personally, my objective is always to get an idea of how they are currently doing it, how they have handled it in the past and why they are looking for a change at this time.  Further, budget is always an important factor so that we do not waste each other's time discussing ideas and options that are not feasible.  I also tend to briefly delve in to what we do in the way of more "consultative" services to make sure we are creating something that will have an impact.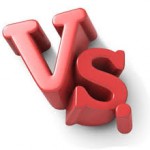 With that said, I felt good about our dialogue. She was going to talk it over with her husband and we'd reconnect the next day at 2PM.  Two failed attempts later, we finally got in touch and I was told "oh we already have some menu boards on the way."  This is not uncommon, and my feelings are never hurt, but when I was told that she went with a local sign company, well, that's when my skin crawled a little bit.  This may be coming off as sour grapes but I assure you it is not.  If I was told "we went with ABC Menu Board Company" I'd be more than OK with it.  The reasons being are because they are in the industry, they have at least perceived expertise and will be able to provide a viable solution.
So why does it irk me?  After all, sign companies make signs and menu boards are signs.  That is all fine and good but what they don't provide are any industry specific insights and suggestions.  "Send us your menu and we'll put it on a board for you."  It may not sound exactly like that, but the undertone is dead on.  We have talked about the importance of well-designed menu boards and what to consider when buying menu boards and in both instances there is very little that traditional sign companies address in these instances.  I understand that people get fixated on the bottom line of any proposal, but it is those who understand the value, those that are forward-thinking enough and those who buy in to the influence that menu boards can have that will see a return on their investment.
Let's try an exercise.  If you have worked with a sign company to fulfill your menu boards in the past, have they done any of the following?
Display Planning
The development of a successful menu board package involves a number of elements that, when done right, take hours of research and planning to properly deploy. What often occurs is that most people overlook this fact, and go with a menu board system without giving it the passing thought it requires.
Whether you are an owner/operator of a single location or manage multi-unit facilities, how do you account for the time it takes to develop the ideal menu board solution?  Where do you even start? How do you balance your objectives with your given budget? What designs, materials or functionality would work best given your environment? Where should you place your various signs to ensure you are generating the most sales? A good menu board company should address all of this for you.
Menu Board Development
After the display planning is complete, it comes time to digest the findings.  Armed with this information and coupled with industry knowledge and capabilities, a good menu board company will work to put together a myriad of menu board solutions for you.  This is a tactical process that adheres to the step-by-step plan that has been previously laid out.  Drawings, mock-ups, and prototypes are commonly used to hone in on the ideal solution for your given environment(s).
Project Management
There are many stages between your first call and the actual installation of your menu board system that, if mishandled, can put a significant strain on your business.  Unfortunately, project mis-management is much more prevalent, resulting in rash decisions on design concepts, rushed production time causing errors and ultimately, delays in your delivery.  Opening without your menu boards or leaving outdated promotional items up is detriment to the impression you give your customers and to your revenue.  Good menu board companies will hand-hold the project through its completion, managing timelines and giving updates throughout.
Act as a Resource 
Being that menu boards are a part of the restaurant industry, most menu board companies have strategic alliances or contacts that they have cultivated over time to address several other areas relevant to your business.  Whether it be a website, online ordering, POS systems, take-out menus or other marketing services, these are areas that you can most likely get some direction on if you are dealing with someone in YOUR space of work.
I want to make it clear that this is not a rail against sign companies.  They most certainly serve their purpose and there is undoubtedly a market for them.  If you need a "coming soon" banner, contact a sign company.  If you need a sign to list your hours, contact a sign company.  If you need a "now hiring" sign, contact a sign company.  But if you want menu boards that will work for you, do not contact a sign company.
To Summarize:
Sign companies make products for every Tom, Dick or Harry offering next to nothing in the way of specific industry expertise.
Saving a couple of dollars by going the sign company route will end up costing you more in the end.
Cheap menu board options do exist, however you have to buy in to the idea that the layout and design is what will make a difference.
There are a bevy of services that are simply not extended by the production- and turnover-oriented sign companies.
Are you ready to change out those old and ineffective menu boards?  Give us a call today and we'll do our best to help you out!  888-235-2579