May 31, 2013 Long Island, NY – Origin Display Group Inc., a leading supplier of indoor, outdoor, and digital menu boards is excited to announce the completion of their first digital menu board install for the Grand Cafe at the Bronx-Lebanon Hospital (BLH) in New York.  Origin Elite, powered by SmarterSign, was the digital platform that was selected for this location.  Two 42" LCDs were flanked by static menu board panels which resulted in a sleek hybrid display.
Grand Cafe is a family-owned restaurant concept that is located in various health institutions and hospitals in New York.  These restaurants serve the employees and visitors of these locations as well as many of those from the local communities.  Aside from the cafe at BLH, they also own and operate the gift shop.  Other Grand Cafe locations include one at Metropolitan Hospital and another at Bronx-Care Fulton Division.  All of these locations are run by the dedicated Tsiattalos family whose mantra is the following: Family-Run with a Family-Vibe, the staff at Grand Cafe is dedicated to serving the community and "keeping the hospital running!"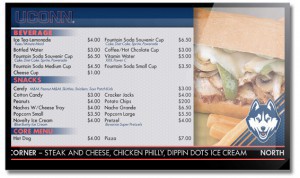 Grand Cafe approached Origin Displays to upgrade their chalkboard-type system that became a burden to manage over time.  With daily breakfast, lunch and employee specials, and alternating soups and seasonal items such as smoothies, the need for a user-friendly, dynamic display became more and more apparent.
Origin Displays' VP of Sales & Marketing, Vic Pereira, elaborates on the Grand Cafe project.  "When I first met Savvas Tsiattalos at the BLH location, four things struck me very quickly: (1) they definitely needed to do something to upgrade their menu boards; (2) Savvas was committed to making some sort of change; (3) this was a high volume location; and (4) there was a true sense of community between Savvas, his son George and a lot of the customers.  In getting to talk to Savvas there was no doubt that Origin Elite was the system that would knock out all of his objectives as far as his elastic menu.  However, equally important to Savvas was making sure the displays made things easier for his customers and created a better overall experience.  Now, they don't have to scour through 3 panels worth of breakfast items during lunch, all the while seeing the weather, catching breaking news and seeing the stock ticker.  It is always refreshing to see people take advantage of the system and make it work for them!"
With the digital signage up and running at BLH, Bronx-Care Fulton is next on the list.  Origin Displays is targeting mid-June of 2013 for that install with Metropolitan Hospital to follow shortly thereafter.