Digital Sign Boards can take two different formats, and both can be highly useful. Your Restaurant Menu Board can display your entire menu in the same manner that you would on a classical printed menu.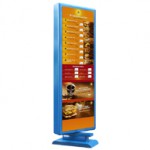 There is also what is often described as a Presell Digital Menu Board. Here, you can showcase advertised specials, new dishes, or anything else that deserves special attention. Best of all, these choice are not mutually exclusive.
Presell Advantages: One of the advantages of a Presell Board, is that it offers you a way to influence your customer's buying process very early on, such as in the drive-through lane if they're driving, or in the street entrance for foot traffic. Then, moments later, when they encounter your full menu on your Digital Menu Board, they already have your suggestions firmly implanted in their taste buds and in their hungry stomachs. In all likelihood, it'll not only speed up their meal choices, but it'll also entice them to buy what you've promoted on the Presell Board.
And, it can't be emphasised enough, whether used alone or in combination, the content displayed on both your Presell Digital Menu Boards and the Digital Menu Board containing your full menu can be changed at the touch of a button from anywhere. And, they are keyed into your POS system. Change the Presell Board, the menu, and your prices with the time of day, a day of the week, with the season, or to coordinate with your advertising campaigns.
A great way to start: Many QSR owners and managers are reluctant to implement Digital Signage Solutions because of the cost. Deploying only the Presell Menu Board is far less expensive than deploying a complete system. But you'll want to be sure that your Presell Menu Board system is upgradeable; because once you realise how much extra sales revenue you'll be achieving, you'll very likely want to double down on Digital Signage Solutions.
Origin Display Group | originmenuboards.com | origindigitalsignage.com | 888-235-2579
Gary Elinoff