Digital Menu Boards are gaining greater and greater acceptance by QSRs throughout the US, rapidly catching up to their European counterparts. And now, that progressive trend is beginning to extend outside to the drive-thru lanes.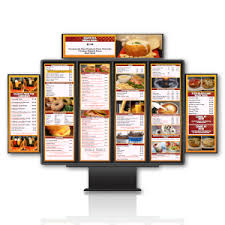 About two-thirds of all QSR sales are made by Drive Thru Customers. And now that Digital Display Signage has already proven itself in the dining room, it stands to reason that QSR management will want to maximize profits by better serving those two-thirds of customers who complete their mealtime experience without ever leaving their cars.
The Drive-Thru Experience is all about moving each carload of customers through the process as quickly as possible, so your diners spend as much of their visit as possible enjoying your great food, and not waiting in line to buy it.
Avoiding Mistakes. Digital Drive-thru Signage works for a hand in glove with Drive-Thru Speaker Posts and Drive-Thru Headsets. When the customer is ready to order, he conveys his order to your staff via a two-way drive-thru speaker. You staff member receives the order on a drive-thru headset. There are many options and formats available for these critical components. But, because the kitchen environment is a noisy, and somewhat chaotic environment even in the best-run establishments, noise-cancelling headsets will pay for themselves many times over by reducing the number of times your order-taker will need to ask the customer to repeat her order.
Drive-Thru Presell Boards are the first thing that your drive-thru customer sees when she enters the drive-thru lane. They're large, they're loud, they're right in her face, but she'll drive past the board in a few seconds. However, in that brief moment in time, you'll have her undivided attention.
Do you have a perishable item that you need to move before it spoils? Your Drive-Thru Presell Boards are a great way to entice a customer's interest, and perhaps amplify that interest by offering incentives. And if your Drive-Thru Boards are digital, they can be effortlessly changed from indoors to easily change your first and most powerful call-out to your customer, based on the time of day, time of the year, or the weather, making the exact right pitch at the exact right time.
Origin Display Group | originmenuboards.com | origindigitalsignage.com | 888-235-2579
Gary Elinoff