For the second year in a row our team here at Origin Displays sat down last week and talked about 2012.  What trends did we see?  Where did we make our biggest strides?  Where can we improve?  What markets are we missing out on?  What products can we develop?  What other markets can we penetrate?  These are just a small sampling of the questions we addressed during our full-day, off-campus meeting.  We had a couple members of our sales team, a representative of Operations, our Administrator and general leadership as part of the conversation to make it as well rounded as possible.  The result was similar to last year; eye opening for some, some differing in opinion, but the most overwhelming feeling was a sense of excitement as we stare down 2013.  Many of the details of the meeting are business related and would be of no interest to you, but some of the trends we saw were interesting and are worth keeping an eye on.
Digital menu boards continued growth
The growth of the digital menu board market is two-fold.  On the one hand, we see more and more interest which is simply gauged by the amount of phone calls we receive and by those that actually go ahead and purchase the system.  In fact, we've had twice as many digital menu board purchases in 2012 as we did last year (counting repeat orders).  On the other hand, the growth potential has caused many more players to enter the ring.  With so many options available for folks out there, deciphering between one or another can become a daunting task.  If you are seriously considering a digital menu board solution be sure to have your objectives laid out as you begin your search.  This way, you can ask the appropriate questions to see if the system can do what you want.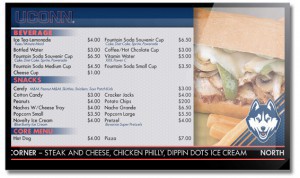 Many still valuing cost over all other factors
We all are living in this economy that is still struggling to rebound.  It is plastered in our face every day and shoved down our throat by multiple media outlets.  The result is obvious; people are watching their purse strings very closely.  The not-so-obvious result is how it can inhibit your potential for success.  We have all heard the saying, "you have to spend money to make money" and while that mentality has led many a small business to failure it shouldn't be entirely cast aside.  The objective of any business is to become and remain profitable.  Crossing your fingers and hoping that it happens isn't going to cut it.  As it pertains to menu boards, going with a sign company to plaster your items on a board is fine and good, but what kind of impact will it have?  You completely lose the value that can be added by professionals in your space, thus increasing sales.  Add to that, you do not have to break the bank - many cost-effective options do exist!
The food service industry's need for a solution
Here at Origin Displays, we have been the benefactor of working with many great food service companies this past year.  For those that aren't familiar with food service companies, they generally provide the food, staff, uniforms, equipment, plates, cleaning and all other food related services and products down to the napkins.  The part of their service that pertains to us is signage.  Our installs for food service companies are generally done in stadiums, cafeterias, mess halls, hotels, etc.  We have worked with their foot soldiers on-site and those in C-suites.  The common theme amongst all of them is that they get their sign needs met on a case-by-case, project-by-project, location-by-location basis.  There seems to be no rhyme or reason for who they go with other than allegiance and trust.  Many are not aware of how the capabilities of a digital menu board software can be used for their print requirements.  Nor do they know that certain packages exist or processes can be created to service their needs.
More people looking the way of the drive-thru, not knowing what is involved
There continues to be more and more supporting data that suggests that adding a drive-thru to your location is going to give you the big boost you are looking for.  However, in order for this to make sense for your location, you need to have the existing volume and a location that will accommodate a drive-thru.  The latter is a little more cut and dry because if your location isn't "safe" or feasible for a drive-thru, your city or town won't let you get too far before nixing the idea.  What I am referring to is the permit that is required.  That is necessity #1 when you are thinking about adding a drive-thru.  If you are taking over a location that has had a drive-thru in the past or are building-out a restaurant with the drive-thru accounted for, you are in much better shape.  Beyond the permit is all the equipment that is required for a fully functional drive-thru.  Unfortunately, a lot of people think that with a sign and a squawk-box they are golden.  Beyond the permit and equipment, you also have to consider the landscaping, parking lot, and traffic patterns.  ALL of this requires professionals to coordinate and install it in order to meet code.  So in the end, YES adding a drive-thru can give you that boost, but be sure to consider all the variables before getting too amped up.
So those were just some of the few, general conversation topics that we spit-balled last week.  There was much more data driven trends that we are still trying to attach to either the way we go about our business or the industry in general.  We certainly look forward to the opportunities that await us in 2013 and wonder what we'll be blogging about this time next year.
Happy Holidays from all of us at Origin Displays to all of you.  Enjoy your family and friends and have a prosperous new year!
What did you see this year?  What are we missing?  We'd love to hear your thoughts.  Give us a call today at 888-235-2579.