We love talking to people when they call in looking for menu boards.  They come in all different shapes and sizes.  Some are looking for a large scale digital roll-out and others for a single counter display. Though no matter what they might be looking for a lot of people don't have a plan for the phone call they have just made.  This is fine, after all it is our job to walk them through different options to see if their is a fit. However with the shoe on the other foot, it certainly would be nice if someone had told me what I could of done before I picked up the phone so that I could get down to business and find what I am looking for in a fraction of the time.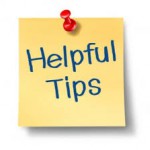 A lot of these calls are made because information such as pricing isn't readily available.  If it was, maybe they wouldn't be thinking of adding a drive-thru or conversely, would of done it years ago.   Cost is one of five areas that come to mind that if known ahead of time you'd be more well-equipped to make a timely decision.
#1- Cost / Budget- These can be considered in the same light, however the difference is obvious.  If you have a finite number of dollars that can be spent on signage it would be important to know what things cost.  We talked about digital signage in the past and the common misconception.  Yes, the pricing has come down on monitors and software platforms, however the fixed cost of hardware hasn't vanished.  What I am getting at is, if done the correct way, there are no digital signage solutions that can be purchased for less than $1000 (for a single screen).  A 42″ commercial grade monitor is going to be approx $800 for starters.  Next, you'd have to consider design, and most importantly the vehicle (software/media player) by which the contents will get on your screen.  I'll let you in on a little secret, it is more than $200.  By establishing a loose budget you'll more readily be able to qualify/disqualify what is palatable for you.
#2- Available space- Pretty simple right?  By having this piece of information on hand you'll know within minutes how many panels fit and what types you'll have access to.  If you're looking to fill 2 x 8 the price and options will be a lot different than 5 x 20.  Keep in mind, just because you have the space, doesn't mean you have to or should fill it all.  There are a number of other factors that play in to that determination.
#3- When you want it- Whether it is with us or another menu board company you usually can expect a minimum of a 3 week lead time.  We always recommend leaving yourself 6 weeks to manage the graphic design X factor.  Having a need by date in mind allows everyone involved in the conversation to work backwards on when to get the process started and/or when to get back in touch with one another.
#4- Design inspiration- The idea that "you guys are the professionals, show me what you got" is all well and good and partly accurate.  However, designing blind is never an efficient proposition.  Ask yourself these simple questions:
- Do I want pictures?  If so, how many and how large?
- What kind of color scheme would work?
- Do I have access to images of my own food or logo?
- (Look around your restaurant) is there any theme, feel or colors where the design could be inspired from
- Are there any looks I've seen that I really like or, on the other hand, want to avoid at all costs?
#5- Know your location- What I mean here is to be armed with basic information regarding your menu.  Have your menu copy in front of you when you make the call.  How many items are you looking to list?  Is there anything that is going to be left off?  Are you wanting to promote any particular items?  In addition make note of anything unique about your location.  Do you have power in place if you want illuminated menu boards?  Is there track lighting already in place that will be sufficient?  Is there anything physically impeding or something that would make the installation more challenging?  Lastly, take some pics.  "Pictures speak a thousand words" and go a long way in helping the person on the other end of the phone conceptualize what you're looking at and for.
What do you think?  Are there any other things that you think would be helpful to consider before making that initial phone call?  In this day and age time is precious for most and any other suggestions that would help maximize the return on people's time would be appreciated.
Let us know by giving us a call today or leave a comment below.  888-235-2579 | info@origindisplays.com