As we go about our business here at Origin Displays the same conversation continues to be had regarding the actual medium that will be displaying the content of any digital menu board system.  This medium, of course, is the LCD/LED monitor.  It has always been our business practice to explain the benefits of using commercial grade LCDs versus the use of consumer/residential units that you would purchase for your home.  We explain this as best as we can (until we're blue in the face) rather than strong arming our prospects in to using our exclusively selected screens.  The reason for this is twofold: (1) in our opinion, the cost/benefit of using a commercial unit as opposed to the alternative is not our decision to make, and (2) the LCD market is very transparent, meaning that the back and forth about specifications of "this LCD" or "that LED," and the pricing negotiation based on what consumers find online at a third rate website is counter-productive and ends up being a bottle-neck for everyone involved.
Our objective is to arm our clients with the knowledge that we have, provide our professional opinion, and let them make informed decisions on what would be best for their business.  With all of that said, we still hear, "Well I could buy two LCDs for the price of one if it isn't commercial, so even if it breaks down after 1 year…" and "I saw one at Costco/Wal-Mart/Best Buy, etc. for half the cost."  This is both factual yet also naive.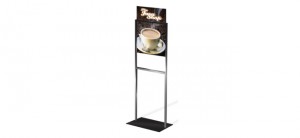 I would like to tell you a little tale about what I have recently experienced with my LCD.  I purchased my consumer grade LCD for my den from a major retailer in November 2012.  All was well in the world until about a month ago.  The television began to cut in and out intermittently.  After doing some troubleshooting on my own, I soon determined that something was wrong, and it wasn't the Cable box.  Since it had been less than a year, I wasn't too concerned because it was covered under warranty.  In fact, I actually paid for the extended warranty so that in the event something like this happened, a tech from the store would come to my house and I wouldn't have to deal directly with the manufacturer.  So I place my call and fifteen minutes later I finally begin to explain myself.  I am then transferred to someone who has me try some very "sophisticated" troubleshooting techniques like, "Can you turn the TV off, leave it for 15 seconds, and then turn it back on?"  Umm, okay.  This lasted for probably another 15 minutes until the obvious was determined on their end – I needed someone to come out to look at it.  This all happened on a Monday.  The quickest someone could get to me you ask, THURSDAY!
Thursday has now arrived and I was given a 4-hour window regarding their ETA that morning.  This is always nice to deal with on a work day.  Anyways, the tech arrives and starts getting at it.  Now it is a large LED (60") but I didn't expect to be an unpaid assistant for an hour.  I was helping him lift the LCD, plugging and unplugging every few minutes while he tried to work his "magic" and then holding the shell in place as he screwed it back on.  All I kept thinking was, "What if I was a 75 year old man?  Would I be expected to do this?"  More disconcerting than anything is that this particular "tech" was simply following the instructions from someone on the manufactures end via a speaker phone call.  The end result; there was a damaged part in the LCD and, you guessed it, they didn't have it on hand.  The part was ordered and wouldn't be in for 5-7 business days.
Fast forward to the following Tuesday.  I received a call saying that the part is in.  Great, I thought… but wait, a tech would not be able to make it until Thursday, a full 11 days after my initial call.  "Nothing I can do," I thought so Thursday came and we repeated the steps from the Thursday prior with the exception of putting in the new part.  Afterwards the TV seemed to work fine.  Now it is 8pm at night, I sit down to watch some Yankee action and after about an hour, POOF, the TV shuts down.  I am getting no picture on my screen.  My patience waning, I call the store and demand a resolution.  One problem, it is now 8pm+ and it is outside their technical service hours.  First thing Friday morning, I call back.  Sensing my frustration, this time they were miraculously able to send someone the same day.  Thankfully it was a different tech, someone who has been doing this for "35 years."  There is no question that he exuded much more confidence in what he was doing which was a relief.  Very quickly, he put a call in to the store and was able to validate a refund or straight exchange.  I wasn't done.  I signed the work order but now it was on me to, again, connect with the store and coordinate the exchange.  FINALLY, on Saturday, 12 days since my initial call I had a working and functional LCD delivered.
After all of this, I took a step back and given the industry I am in, I thought to myself, "Could you imagine if this happened to a digital menu board?"  12 days would have passed without the use of the screen.  To me, this is a shining example of that cost/benefit I alluded to earlier.  Is the couple of hundred dollars in savings really worth it?
So what is the warranty difference with commercial grade monitors?
For instance, Philips commercial grade LCDs have a 3 year on-site warranty.  This covers parts, service and transportation.  They also claim to have a 99% repair rate and provide a replacement unit should the LCD need to be removed to be fixed.  This is typically all handled within 48 hours.
Does reading this change your thoughts on what you would do when/if you ever went the route of digital menu boards?  We'd like to know!  Give us a call today at 888-235-2579.