It's getting hot out there, folks! While you cool off, take a moment to read about the new things that July has brought to the digital signage industry—from cylindrical displays to a fully digital tabletop.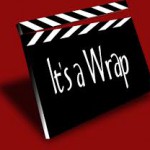 Digital waiting room content: A recent study by a digital signage provider that regularly works with doctors' offices, digital content in the waiting room discussing a particular product or disease made it more likely that patients would talk to their doctor about it. Additionally, as has been shown in other industries, the presence of digital signage decreased perceived wait time.
Digital tables?: A digital signage company based in the Ukraine has developed a restaurant table in which the entire tabletop is a digital touchscreen. Customers are able to order from the table and pay there, too, with a built-in credit card reader. The table is reportedly sturdy enough to survive restaurant life, and restaurant owners typically recover their investment in less than a year.
Market growth: According to a new report, the digital signage industry—valued in 2015 at 16.88 billion dollars—is expected to grow by more than 60 percent in the next 6 years. The projections come from Research and Markets, suggesting that the industry may be worth over 27 billion dollars in the year 2022.
Signage cylinder in London: At Westfield Shopping Center in White City, London, a new cylindrical digital display has been installed.  The display wraps around a preexisting column in the shopping center, and the display will be able to be updated remotely to show off seasonal promotions or even stream live TV!
As the digital market continues to grow, it's clear that digital signage providers are getting more and more innovative. We can't wait to see what next month will bring!
                                                        Origin Display Group | originmenuboards.com | origindigitalsignage.com | 888-235-2579