Another month, another set of amazing digital signage developments. From an LED staircase to helping AMBER alerts reach more people, June has certainly seen its share of exciting digital signage news.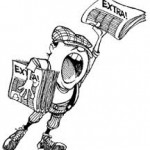 Las Vegas LED staircase: A Canadian digital signage company created a stunning LED staircase for the new JEWEL nightclub in Las Vegas.  The digital portion of the staircase is made from shock-resistant LED ribbons installed on the risers (front portions) of the stairs.
Digital "Umbrella" in Times Square: In the busiest part of New York City, passersby are being invited to share an umbrella pictured on a large digital screen.  The innovative interactive display includes virtual "rain" coming from a faucet, and serves as advertisement for American Standard, a kitchen and bath company.
AMBER alert awareness: An advertising firm in Canada has partnered with the Ontario AMBER alert program in order to further help abducted children get home safe.  They have agreed to allow already-existing digital signage (normally showing advertisements) to be co-opted to broadcast AMBER alerts as the need arises.
Pulse nightclub memorial: In Boston, digital billboards were used to display a message of support for the victims of the mass shooting at Pulse, a homosexual nightclub in Orlando.  The billboards read #OrlandoStrong in order to show solidarity with the city of Orlando and honor the 50 victims.  The hashtag mimics the one used in the aftermath of the 2013 Boston Marathon bombing, #BostonStrong.
Flight schedules and more: In a great example of the valuable ways digital signage can be used, an airport hotel has announced that they will be installing digital screens in order to display on-site events as well as flight schedules for the Akron-Canton Airport.  These applications are prime examples of constantly-changing information that is best displayed in a digital format.
It's been a roller coaster of a month, from triumph to tragedy. Here's to a safer July.