When talking about digital menu boards for restaurants, why is it that for the most part the marketing focuses on the quick-serve or fast casual restaurants? What about the fine dining establishments?  Can they also benefit from the use of an effective digital menu board solution?  The answer… YES!  Having been involved with restaurant digital menu boards since its inception, I always make sure that my fine dining clients recognize that there are simple benefits that work in QSRs that can transcend to the fine dining side as well.  Some such benefits include:
Benefit #1 – Real-time Marketing to Customers
With digital menus, it's like having access to multiple posters at any given time, targeted to different demographics.  Fine dining restaurants can benefit from putting digital menu boards in their waiting areas to promote their dinner and bar specials, catering capabilities, group specials, gift cards, etc., as well as wait times.   And unlike QSRs, fine dining has a captive audience that is not distracted by making their own ordering decisions so the actual impact has proven to yield better results.
Benefit #2 – Maintains a High-End Image
Regular paper prints have a tendency to wear, whither, and blend in to the décor of any restaurant.  Using digital menu boards will not only look more sophisticated and garner more attention but certainly have more of an affect than posters on an easel.   To accommodate the high-end look of a fine dining establishment, some digital menu boards companies have begun to manufacture custom frames so that the LCDs do not look out of place.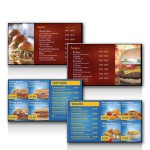 Benefit #3 – Fits seamlessly with larger design and marketing workflow
Most successful restaurants work with creative groups or agencies that develop a variety of marketing campaigns (print, web, social media, etc).  As a part of these campaigns, the voice of the messages are ever changing.  Beyond having the ability to make changes quickly and easily to coincide, digital menu boards and its software often allow restaurants to display parts of all of their campaigns.  Whether it is showing a tweet from happy customers, displaying photos or videos for special events, or promoting your website, the screens can be set up to show any and all of this effectively.
Benefit #4 – Long-Term Cost Saving Benefits
Most restaurants that use traditional mounted posters can expect to pay in the area of $100 per poster (including design).  Quite often restaurants do not limit themselves to a single poster and when the time comes for making changes, that $100 is multiplied several times over.  With the costs of LCDs continuing to become more affordable, along with a greater number of players in the "digital signage" market, setting up a digital menu board platform continues to make additional sense because of its limitless residual possibilities.   The breaking point between investing in reprint after reprint and making the investment in to digital menu boards is not only driven by the setup and size of the system, but more so the advantage that you WOULD take of it.
The many advantages of digital menu boards can be seen on the fine dining end with the help of a company with industry knowledge and an expertise with digital menu boards.  Technology companies that have developed digital signage solutions can explain the benefits of using their software, but what they lack is the know-how when it comes to applying it to the restaurant industry.  This is a pitfall that many fall in to, yet can be easily avoided.
To Summarize
Here is a review of the main points in this blog post:
The simple benefits of a digital display system can be felt by quick-serve and fast casual restaurants as well as fine dining establishments.
Some benefits a fine dining establishment might want to consider when contemplating a transition to digital menu boards include the ability to offer real-time marketing to customers, maintaining a high-end image, seamlessly matching your display with larger design and marketing workflow and long-term cost saving benefits.
There are lots of companies who offer digital solutions, but few who have genuine integration and design experience.  A poorly installed system with sub-par software can be a nightmare.  The right setup, on the other hand, can lead to ease-of-use, added benefits, comfort and happiness!