The ever-evolving digital menu board and digital signage industry continues to see more and more companies join the party.  There are several reasons for this, but for the most part, it is due to its forward-thinking appeal and the general consensus that the shift from traditional signage to digital will continue to gather more and more momentum.  As a result, consumers are left with a myriad of platforms and number of different payment options to choose from.  Combine that with "this software can do this," and "that media player can do that," and it can become very overwhelming in a hurry.  So how does one minimize the risk of making a bad decision?  Where do they even begin their search?
For starters, it is important to understand what it means to have a true digital menu board solution.  Forget the LCDs, mounts and cables for now and let's focus on the heartbeat of any system – the software and media player.  Software and the media player allow for the following: (1) Content Management – how/where it is created and how content is changed or updated, and (2) File Management – administrative access, scheduling of content and its dispersal on to the screens.  If content and file management are addressed appropriately, you can quickly cut to the core and distinguish the contenders from the pretenders.  Unfortunately, this is no easy task and there are many things to bear in mind.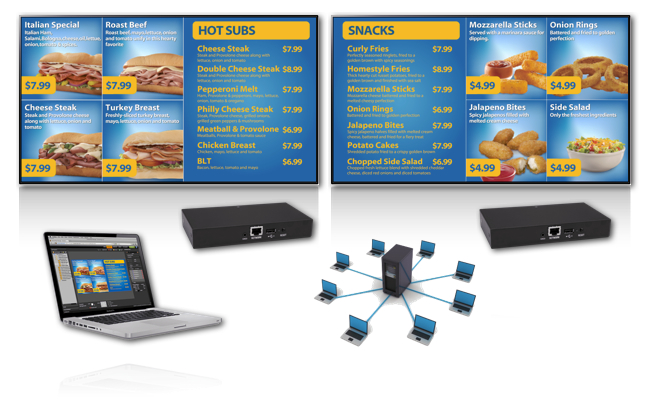 Pitfalls to avoid:
A company where digital signage is not their core business.  These digital signage companies were spawned because they had a media player that they conformed to capture market or they had a software platform that they conformed to capture market.
Companies that ONLY use 3rd party design software.  Typically Photoshop, Flash or Aftereffects are used to develop the content required for their software platform.

It's very expensive to have designers create content in these specialized applications.
Most business owners do not own these design applications, and those who do generally lack the wherewithal to make compatible changes within the software.

Companies that retain the source files.  In this case, the end-user is forever attached to them or they have to start from scratch with a new designer – which is extremely costly!
Any Managed Service arrangement.  In these arrangements, we typically see that the buyer ultimately owns, has access to, and can change, NOTHING.
Keep In Mind:
Experts are experts.  Seminars, webinars, demos – you name it, the people who are walking you through these are experts on their software and can give the impression of ease with little effort.  It is important to be alert, ask pointed questions, and have them develop something from scratch.
Understand the value of a solution.  There are as many platforms that have subscription fees than do not.  Often thought as being a negative, monthly or annual subscription fees can often add value.  Get to know the bang for your buck!
Seek experts in your industry.  Whether you are looking for digital menu boards for your restaurant, for hospitality, education, etc. there are a number of companies that work mainly within those verticals.
Ask the right questions!!!  Ask yourself questions such as "If a company tells me that they are not going to charge for changes or support, what is going to be their impetus to do so when I need it most?"
A very real scenario…
I get to my store before business hours, open up my desktop design application and search my computer for the menu board files.  Once located, I open my corresponding text file and edit it.  I then open my display file to see if the text fits within my predefined data fields.  The same goes for the picture changes I try to make.  DARN!  It doesn't look right – which is often the case because the software doesn't automatically wrap text or scale and constrain pictures. I now have to return to my desktop design application to manipulate my data fields. WHOOPS!  I messed something up because I am not a trained designer, nor an expert with this complicated software.  As a result I have to call technical support.  OH SHOOT!  They are not open until 9am but I need to make the changes NOW.  OH WELL!  I wait and finally get a designer on the phone at noon who tells me to send the changes I am looking for to their email.  A day or two later, they have finally freed themselves to make the change(s) FOR A FEE.  The changes are sent back to me via email.  I open the email, download my new design file(s), import them into my desktop design application, assign them to my player and pray.  WHEW!  It worked and it only took 3 days and cost $250.00.  At least it wasn't a week and $500 like last time.
To Summarize:
Here is a review of the main points of this post:
Make sure you source a solution that has the two MAIN aspects of digital signage under one umbrella – content management and file management.
A dollar spent now will save you a dollar later (and maybe more).  Paying for the RIGHT solution is worth its weight in gold knowing what you could be dealing with, as illustrated in "A very real scenario."
There are many good solutions available but many more bad ones.  Be sure to work with a company who understands your objectives and provides a solution that addresses them.  Never be the square peg that is forced into or drawn to (because of price) a round hole.