Just because you own a TV, doesn't make you an expert on television programming. Just because you have been a football fan for years, doesn't mean you qualify to coach your favorite team.  And just because you own a restaurant, doesn't mean you should layout, design and sometimes build your own menu boards.  In all of these cases there are people with years of experience that are tasked with making decisions that will benefit their viewers, fans and clients. The problem on the menu board side is a lot of people fail to turn over the majority of this process and try to manage it all themselves.
There is no question that nobody knows your business like you, however many a great idea has come from an outsider's "fresh take" on any aspect that has been the same for a while.  Even if you are a new business it is a good idea to entertain a professional's opinion.  Loosening your grip on the following areas may lead you to something that will be easier for your customers to read, look better and ultimately increase sales.
Menu item placement:
The most critical phase of establishing your menu board system is when it comes time to take your menu items from your take-out menu, excel spreadsheet, napkin, or otherwise, and applying it to your menu boards. Time and time again people hand over there menu copy and ask to have it laid out "to make it fit" on any number of panels.  What they fail to realize is that there is a lot more that goes in to placing certain items in certain places.  If you are dealing with a sign or menu board company that does not ask the right questions, it is oddly unfortunate that you will get exactly what you want – a menu board that has been laid out with no rhyme or reason.
The use of pictures:
It is our belief that picture placement, size and quality is what can make or break your menu board's effectiveness. Using pictures for particular categories will help the eyes find what they are looking for much quicker than any words. Also, the pictures that go on your boards should be similar to what is being handed over the counter.  You want to avoid the disconnect between what is being "advertised" and what is being served.  So suggesting to fit pictures "wherever you can" or "if there is room" might not be the best approach.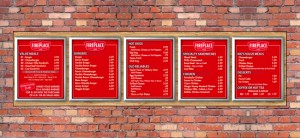 Font size:
Slapping your menu items on a board and hoping that they are legible is obviously counter-productive to what you are trying to achieve. On the other side, going too large with your text can easily become distracting and take away from any promotions you may be trying to run on the menu boards. As long as you are dealing with the right menu board company (check back next week for a blog on that), you should simply have to tell them how far back your customers are standing from the menu boards. The company should be able to take it from there.
Where to hang the menu boards:
Sometimes it isn't so abundantly clear where to hang your menu boards. You have the wall space, but you also have a soffit; you could hang the boards on an angle, suspend it from the ceiling or have it mounted flat against the wall. Taking a step back and pinching your chin with your right index finger and thumb is not the educated way about doing this. You have to consider the traffic of your customers, various sight lines, and menu board legibility.    
To Summarize
Here is a review of the main points of this blog post:
Although you might think you know all when it comes to your menu boards, opening your ears to some expert advice might bring to light new possibilities you didn't even know existed.
The placement of your menu items and pictures are critical to the success of your menu boards.
Font size and where to hang your menu boards are NOT forgone conclusions; there are many things to take in to consideration.
The right menu boards company should open your eyes to the options that lay before you.
To have these and other areas addressed for your restaurant at no cost, CLICK HERE