Long Island, New York 
Origin Display Group, a Long Island-based leader in the menu-board industry, announces the launching of the first of a series of new websites, designed to offer unprecedented accessibility for clients.
"We are very excited to have launched our new Menu Boards website," says Partner Vic Pereira. "This is phase one in a wave of four new sites that we are developing and will be refining in order to provide greater accessibility to our first-class products and services."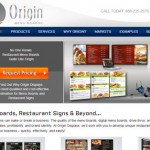 Since 2009, Origin has been a prime supplier of indoor, outdoor and digital menu boards as well as other point-of-sale signage.  Origin products have served a number of industries, including fast-food and traditional restaurants,  auto service and supply, convenience stores, theaters, schools and stadiums.  Clients include both local and national corporations in a variety of fields, among them Popingo's Convenience, Texas Lutheran University, Master Wok, the Patchogue Theater of Performing Arts, and Ralph's Italian Ices.
The new website includes such state-of-the art features as a home-page slider to promote monthly specials as well as a news feed that shows the most recent blogs and industry news.  It will also promote new indoor and outdoor drive-thru products.
Additionally, Mr. Pereira states, the site will be much easier to navigate. "When looking at our menu board site you'll notice that it is easy to find what you're looking for without being overwhelmed with information.  Our goal is to keep the site fresh and current over time with the latest in promotions and industry news."
Next in the new website series will be a digital signage site with display fixtures and large-format printing..  Each of the planned websites will have a shopping cart extension to  make it easier for current and prospective clients to shop for products.
To help promote its online marketing, Origin has now partnered with Efferent Media, a Long Island consulting firm specializing in Search Engine Optimization , Social Media, Website Development and Content Marketing.