May 28, 2013 Long Island, NY – Origin Display Group Inc., a leading supplier of indoor, outdoor, and digital menu boards have gone north of the border and in to Cochrane, Ontario to produce a stainless steel menu board system for the Polar Bear Express train of Ontario Northland.  This train services passengers between Cochrane and Moosonee, Ontario.
The Ontario Northland Transportation Commission (Ontario Northland), an Agency of the Province of Ontario, was established in 1902 and is a recognized leader in promoting sustainable economic growth by establishing and operating transportation and telecommunication links throughout Northern Ontario.  They are headquartered in North Bay and operate primarily in Northeastern Ontario.  Beyond the Polar Bear Express, their services include rail freight, telecommunication, and refurbishment, among others.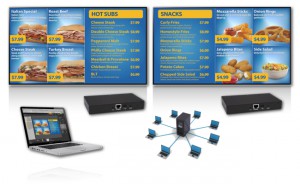 Origin Displays was contacted by Ontario Northland to revamp their existing menu board system on the train.  Ontario Northland grew tired of the challenge of maintaining a clean and professional menu board while having to change their dinner specials and soups on a daily basis.  Origin's Metro Menu Board Series was quickly identified as the style of choice.  From there, Origin was faced with laying out a menu board system that was to support a rotation of more than 20 different dinner specials and soups, along with their accompanying pictures. It also had to be translated to be legible for the densely populated Cree people that frequent the train in the area.
The Cree are one of the largest groups of First Nations/Native Americans in North America, with 200,000 members living in Canada. The major proportion of Cree in Canada lives north and west of Lake Superior in Ontario, Manitoba, Saskatchewan, Alberta and the Northwest Territories. About 15,000 live in eastern Quebec.
Origin Displays' VP of Sales & Marketing, Vic Pereira, elaborates on this project.  "About 6 weeks ago Ontario Northland's Guest Service Manager, Marty Bizier, reached out to us about this project.  He had obviously done his research.  He had a clear plan in mind for his menu boards and it was on us to execute it.  The dinner specials and Cree language did set us back a little bit.  There was a lot of detailed picture manipulation to be done and the translation was not one we were familiar with.  I have to give credit to our designer and Marty.  Between the two of them they were able to work their way towards a great looking, finished product that hits all the points Ontario Northland was looking for."