Six years ago, one of the current owners of Origin Displays was chosen to work directly with the President of his previous company to add digital menu boards to the core product line.  The President had already selected the software platform to build from. Software was the premier choice for networked digital signage - it was the best on the market. It took 3 days of networking and system management training and another 2 days of design and scheduling/content management training to get a handle on the system.
Now that they were armed with this software the question became, "How are we going to sell this to our clients?"  Under the enterprise option each client could buy the entire management system and set up there own sign network. For simple content management, they created design templates where clients could access a limited number of data fields for editing text (menu items and pricing). With a managed service agreement, they would design the content and maintain all changes for the customer. When clients needed to update their menus or promotions they would contact the company to make all of the changes for them. This included menu items, pricing, pictures and schedules.
None of the product offerings were ideal for the end user. Knowing that most, if not all, restaurant owners would not invest $15K into software, the enterprise option was quickly eliminated.  You also can't build value around a system with severe limitations, so there went the simple content management option.  As a result, the managed service agreement was the only option left.
The managed service agreement had some great selling points. There was a lower cost of entry because there is no software to purchase, the monthly payment is very reasonable, someone else does all the work for you and there is no learning curve. There were also pitfalls - the client couldn't always get the changes the very minute they needed them and they were trapped in an agreement they couldn't get out of.  If you wanted out, you had to spend $15,000 on software to manage yourself and, once managing it yourself, you needed to be a graphic designer and an IT guru at the same time – oh yeah, and a restaurant owner!
At the previous company there were pitfalls. They were slaves to ever-changing content. Content was very difficult to update - it was a very complex design software that required both Photoshop and a proprietary application. Complicated design and scheduling made it difficult to know what was playing and when. They quickly became slaves to tech support - owning a server that had over 100 media players connected to it required a lot of attention.
It didn't take long to realize that this type of model wasn't going to work for either the business nor the clients.
Learning from this, the Origin owner knew that he had to come up with a solution that was going to offer all of the benefits associated with digital menu boards while still being easy to use. This was the only way he was going to feel good about offering this type of solution to his clients.
The main obstacles he had to tackle – (1) content has to be easily created using basic design, like Photoshop or PowerPoint; (2) the end user needs to be able to edit content, images, menu items and especially pricing; (3) the system must be able to display smooth, elegant transitions from one menu or promotion to the next; (4) the ability to schedule multiple day parts or holiday promotions is a must; and (5) easy deployment is extremely important. (Media players must be easy to set up and install without the need of an IT specialist.  The average business should be able to learn the system without any advanced training classes.)
Armed with a good understanding of what he was looking for, the owner began his search for the perfect digital menu boards solution. He used the same resources that most are using today - Internet searches and trade shows. There certainly were a lot more options than had been available just three years earlier.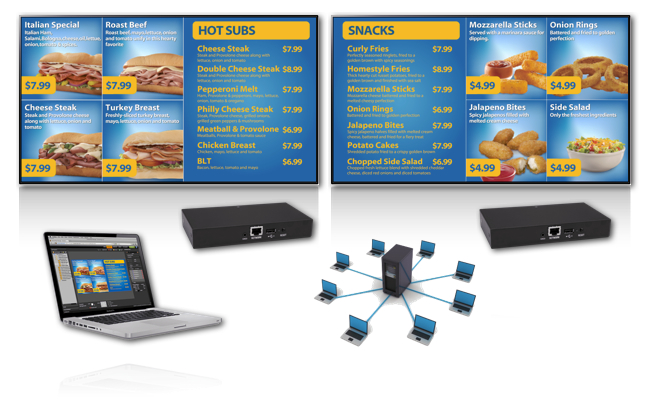 Quickly he realized that everyone was trying to capitalized on this new emerging market and while there were a number of solutions that did one thing well, just about everything fell short of what was considered to be the "ideal" solution. There were great hardware companies with small robust devices. Question was, how do you get content to them? Sure they have a free software download but that software doesn't allow you to design or even edit the files being displayed. Our clients shouldn't have to pay a designer to edit their content every time there is a price change or when they added a new item. Other solutions offered very robust software but those ended up being way too complicated to deploy and especially to maintain. Restaurant owners do not need to manage files like they would in iTunes, they need to manage menus including items, pricing and images.
Finally… at a small trade show in Pennsylvania, in a booth that was off the beaten path, Origin's owner met the owner of another company that had just begun developing digital signage software. He offered to provide a quick demonstration of the software platform and within 15 minutes Orign's owner was sold. It had been everything he had been looking for over the past 6 years!  And so was born Origin Elite…
What did that solution look like?  What were its capabilities?  How was it different from any other solution on the market?  Click here to learn more about this digital menu board solution or give us a call today at 888-235-2579 for more information!