As part of this industry too, we think it's important to help you stay abreast on important topics that continue to pop up on a daily basis.  We understand how busy everyone is and can't even begin to comprehend the amount of emails being exchanged on a daily basis.  I know from experience that my Inbox gets flooded with tons of emails a day, some which I never get the chance to open before deleting.  In order to help you stay up-to-date on what's going on in the restaurant industry, we have dedicated this week's blog to outlining some of these important topics thanks to email updates sent to me by QSR Magazine (www.qsrmagazine.com), FastCasual.com (www.fastcasual.com) and Nation's Restaurant News (www.nrn.com).
The Beef Goes On:
Meyer Company Ranch—housed under Meyer Natural Foods umbrella, owner of beef brands like Meyer Natural Angus, Laura's Lean Beef, and Dakota Beef—is just one of the many operations in the U.S. that raises cattle in a different fashion than the industrial beef production of yesteryear. It's also proof that not only is the face of the beef industry shifting, but so, too, is the type of beef customers say they want to consume and feed to their families.  Despite rising costs and increasing supply pressures, the evolution of and interest in the beef industry illustrates that customer demand for beef is far from scarce.
Ones To Watch: Uncle Maddio's Pizza Joint:
There are 18 Uncle Maddio's locations open in 10 Southern states, with 140 more in development. Eight to 10 additional units will be open by the end of 2013, and another 30 are planned for 2014, Matt Andrew, founder of the pizza chain, says.  Andrew says Uncle Maddio's is finding success because consumers like customization, especially when it comes to pizza. "People have been sharing pizza for 100 years," he says. "Now, finally, you don't have to share with your sister or your mom and dad. You can get exactly what you want on your individual pizza."
2013 Best Franchise Deals:
Looking to add a brand to your portfolio? It's back and bigger than ever. Now in its fourth year, our "Best Franchise Deals" report has become the can't-miss list of top quick-service and fast-casual franchises, assessing factors such as investment-to-sales ratio, marketplace differentiation, corporate support to franchisees, and positive brand momentum.
Birth of a Brand:
Every successful quick serve has to start somewhere. Getting the brand from simple idea to doors open, though, takes time, money, and a heavy dose of strategic planning.  "When you open a brand, there has to be more than just food. In restaurants there is food, but a brand serves an experience."
Can Ice Cream Survive?:
They seemed to pop up almost overnight.  In strip malls and on street corners across the country, frozen-yogurt shops suddenly offered an exciting new option for America's collective sweet tooth, teasing at healthfulness and innovating with self-service and customization. Once concentrated mostly in warm coastal cities or urban centers, fro-yo concepts spread to countless towns, suburbs, and neighborhoods across the country, with names like Pinkberry, Red Mango, and Menchie's.  Fro-yo's sudden hot streak appeared to threaten a mass melting of one of America's tried-and-true dessert darlings: ice cream. Indeed, some of the nation's top ice cream concepts took a beating with fro-yo's arrival.  But ice cream brands say they're nowhere near ready to surrender.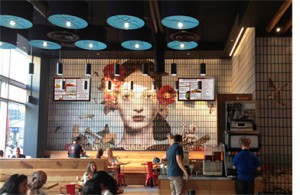 Frozen desserts: What fast casuals can learn from QSRs:
Frozen desserts shouldn't be something that's difficult to offer. Consumers are always looking for the newest flavor-crave, freshest baked goods or most indulgent treats. Consumers want to celebrate victories in life, whether big or small, and frozen, decadent, delicious desserts may be just the way to go. You don't have to travel halfway around the world like Marco Polo just to find a recipe; your kitchen is a good first place to start. Menu innovations, consumer attitudes and recipe development are all a part of what creates the next big craze. With a little help, those frozen desserts can become cold hard-packed cash.
Restaurant industry performance hits a 14-month high:
Buoyed by stronger same-store sales and customer traffic levels, the National Restaurant Association's Restaurant Performance Index hit a 14-month high in May.  The RPI — a monthly composite index that tracks the health of and outlook for the U.S. restaurant industry — stood at 101.8 in May, up 0.9 percent from April and the third consecutive monthly gain. May also represented the third straight month that the RPI surpassed the 100 level, which signifies expansion in the index of key industry indicators.
Report: Global dairy prices 'exceptionally high':
Rabobank has published a new report on the global dairy industry, which includes a look at supply, demand, pricing and forecasting. In the report, published by the bank's Food & Agribusiness Research and Advisory team, the bank says that international dairy prices peaked at record levels in April, 10 months after the last market low.  Although prices relaxed in mid-June, falling 10 to 12 percent, they remain "exceptionally high" by historic standards, according to Rabobank.
Meet the 2013 Golden Chain Award winners:
Nation's Restaurant News has tapped five bold and innovative restaurant leaders as its 2013 Golden Chain Award winners. They will be honored during the MUFSO SuperShow, which will take place Sept. 29 – Oct. 1 at the Hyatt Regency at Reunion Tower in Dallas.  "This year's winners have developed and executed aggressive growth strategies for their companies at a time when others might be holding back," said NRN Publisher Chris Keating. "We applaud their thinking and their impressive results and look forward to honoring them at MUFSO with one of our industry's most prestigious awards."
Immigration bill passes in Senate:
Restaurant industry association leaders roundly praised the U.S. Senate for passing legislation that would overhaul the country's flawed immigration system.  Senators passed the bipartisan measure known as "The Border Security, Economic Opportunity and Immigration Modernization Act of 2013," or S.744, by a vote of 68 to 32 on Thursday, June 27th.
The latest chefs on the move:
NRN senior food editor, Bret Thorn, tracks the latest chefs on the move – including Peter Czizek, Nicole Plue, Yuhi Fujinaga, Thomas Dunklin, Keoko Turner, Myles McVay, Jenna Crile, Lou Cruz, John Lawrence, Antonio Cardoso, Daniel Furey, Dario Correa, Stacy Cogswell, J. Christopher Windus, James Boukhalfa and Jesse Olsen.
As you can see, there's a lot going on in the restaurant industry, with many things to consider when deciding how it's best to run your business.  Should you need some guidance along the way, don't hesitate to contact us at info@origindisplays.com or give us a call today at 888-235-2579.