Drive-thru menu boards come in many shapes and sizes.  They also have to adapt to work in varying locations.  There are several factors that guide you to the final product; amount of menu items, available space, budget, etc.  However beyond all of that, there is always one question that has to get answered, "Do you want to use a speaker post, of have the speaker and microphone on-board the unit?"  I am quick to squash the cost question because it ends up being "pennies on the dollar" more to do it one way rather than the other.  So what does it come down to?  Which way should you go?  There are a number of circumstances that have to be considered.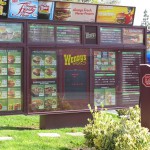 When and why to use a speaker post:
When- You should go the route of the speaker post whenever you have the room to do so.  Secondly, you may be taking a location over or adding a drive-thru to a place that used to have a drive-thru.  If the conduit is poking up in the area where the speaker post once resided, it would make no sense to rerun it in to the base of the drive-thru.
Why- The voice clarity and communication to and fro the car outside simply cannot be matched by an on-board setup.  By using a speaker post, you are also afforded the flexibility of placing it where you want or where you have to depending on the lay-of-the-land.
When and why to use and on-board speaker / microphone:
When- Some drive-thru menu boards have to be positioned in a way where there is no room for a speaker post.  An on-board speaker and mic becomes your only alternative.  Of note, the position of the on-board speaker and mic should be taken seriously.  Some companies/units position them beneath the graphic area of the drive-thru; this is too low!  What happens in this instance is a lot of noise and interference from the car, making it difficult to communicate with those at the drive-thru.  Regarding wall mounted drive-thrus, positioning the speaker and mic below the graphic area of the sign is less of a concern because you can dictate how high to go up on the wall.
Why- It is your only option.  The only other occurrence where an on-board speaker and mic should be considered is, again, when the electrical work is already in place.  However, if you have room for a speaker post I would submit to you that it would be worth the extra couple hundred bucks to have the conduit run and a speaker post mounted for best results.
Is there anything we missed?  Why else would a speaker post be used vs. an on-board system – and vice versa?  We'd love to hear them as well, give us a call today at 888-235-2579, email us at info@origindisplays.com or contact us here.