When customers are viewing your sign in a vehicle, it becomes even more important to capture attention quickly and make your information easy to interpret.  To that end, here are a few tips to save you from common drive-thru mishaps: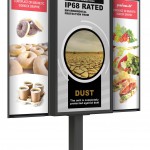 1. Feature combos:  People taking the drive-through route are in a hurry. To save employees from listening to a series of "um"s and "uh"s, make it easy for customers to order by giving them quick access to popular combinations.  However, you should also:
2. List a wide variety of items: While customers should have the option to choose a quick combo, they shouldn't be at a loss if they want something else, either!  This is where it becomes particularly necessary to strike a balance—and this might require a little trial and error. You want to minimize questions about the menu, so you should have plenty of information available, but not so much that customers get lost in it.
3. Make sure the screen is featuring menu items at all times:  The drive-thru menu isn't for glamour shots of the food, advertisement of upcoming events, or anything but what people need to order.  If the screen changes from menu information, it can lead to back-ups in the drive-thru line, which is the last thing you want when you're trying to keep up a quick customer turnover.
4. Keep up maintenance:  Especially in winter months, when your drive-thru might be plagued by snow and ice, it's important to make sure that your equipment is in good condition, and catch any problems before they start. Proper maintenance is much cheaper than replacing your unit!  Your signage provider can give you maintenance information for your particular unit.
Drive-through menu boards can be an important part of your business, and having a digital menu board means that you can make changes to your layout quickly and efficiently!
Origin Display Group | originmenuboards.com | origindigitalsignage.com | 888-235-2579