When the search begins for your location's menu boards there are many elements that should be previously thought about, that quite often are not.  The Internet, with its bounty of information, allows folks to search, find, price and cross reference companies and their menu boards so they can make what they feel are informed decisions.  I am not suggesting that this is a bad thing; in fact I encourage those I speak with to perform their due diligence because they will inevitably gain some knowledge along the way.  It is what is done before all of the Googling and surfing that can be polished a little bit.  By taking the following five factors in to consideration, you will be better positioned to make informed decisions that will have a greater impact on your business.
#1 – Timing
It is never too early to start thinking about your menu boards.  Keep in mind, it is the one thing that everyone who comes to your restaurant will, at some point, look at.  This isn't to lessen the importance of your overall interior design, but the decision between earth-tone and peach for the wall paint should pale in comparison to the questions surrounding your menu boards.  For example:
How should I place my menu items on the boards?
How can I promote my items with the greatest gross profits?
Do I want pictures?  If so, where am I going to get them?  Should I take professional photos?
Where would be the best place to put the menu boards?
Etc…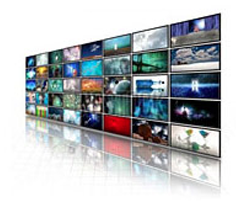 #2 – Landscape of your location
Before making your rounds online and by phone, be sure to know what you are dealing with at your restaurant as it pertains to your available space, lighting, distance from/to the customers, potential obstructions, and the ideal hanging area and mounting system.  In doing so, you will minimize the back-and-forths between you and any number of companies you are considering.  In addition, it will only help those on the other end of the phone to serve you better.
#3 – Reach out to those with industry knowledge
There are enough established menu board companies that you should have no problem finding the information that you need to purchase a system that would work best for you.  The expertise that many of these companies possess should not be undervalued.  Most will, or at least should, be the guiding hand to lead you to the ideal solution.  Try to avoid the old school approach of "going local" or using a sign shop.  Is a sign shop going to be able to grow with you?  Are they going to be able to give you various design and layout options?  Are they best equipped to handle the logistics of a large roll-out?  Going with a sign company for a menu board is like going to a pawn shop for your girlfriend's engagement ring; you will get what you think you need for cheaper, it will suffice for a while, but eventually you'll have to replace it because nobody is happy with it.
#4 – What will work the best
When people think about what would be the optimal menu board system, many default to a strip and digit solution.  This especially holds true for new restaurant owners.  In many cases it makes sense, but in several others it does not.  In my opinion, it truly comes down to your preference for fashion vs. function and not cost.  Depending on the solution, the cost is comparable between purchasing a small handful of strips and full graphics.  So don't get engrossed on what you think would work the best for you, be sure to put some more thought in to it.
# 5 – Don't get fixated on just menu boards – think big picture!
As previously discussed, the menu boards are the focal messaging point of your restaurant.  As a result of this, people tend to place the majority of their interior signage focus in this area.  With that in mind, I respectfully ask you to take off the blinders and look around.  Whether it is a coffee concept (Dunkin' Donuts, Starbucks), burger concept (McDonalds, BK) or more of a fast casual concept (Panera Bread), they all do a tremendous job of reinforcing their brand and using a TON of ancillary display fixtures and banners and graphics to run promotions and introduce new items.  We are talking multi-million and BILLION dollar companies – so when I hear "I don't want to look like another McDonalds," I think to myself, "why the heck not?"  Imitation is the highest form of flattery and "stealing" a few strategies from these giants may not be a bad idea.  If you can take your walls, windows and counters and tactfully use them as promotional space for your items, they will combine for an equitable amount of impact on the cash register as your menu boards!
To Summarize
Here is a review of the main points of this blog post:
When beginning to look for a menu board, there is preparation that can be done weeks to months in advance that will give you an advantage.
Your menu board search can be cut down if you familiarize yourself with the environment that they are going to be placed in beforehand.
From the onset, working with people who have expertise in the industry will allow you to sponge knowledge that will help you in other areas of your business.
Although the menu boards are the hub of a restaurant, there are many other areas of real-estate that can use signs to increase sales.

For more information on what to consider when buying a menu board, CLICK HERE!