As the days go by, and conversations are had, I have taken notice of some of the common questions that I get asked. I thought it may be useful to address some of them this week. The reason is two-fold. For one, they are more eloquently answered in written form and two, it can provide as a soundboard for questions that others are asking but what you may have yet to think about. A couple of notes to consider before reading the Q&A:
For the most part, the questions are written in a formal way than how they are actually asked.
Some of the questions aren't actually stated, but insinuated through conversations.  Put another way, they are questions that people are asking themselves.
If you had a restaurant, what menu boards would you use?
Whenever I get this question asked, it is easier to answer if I know a little bit more about the person's (who is asking the question) situation.  What I like to do is put myself in to their shoes to make it more relatable.  As I have said many times, a dollar to me probably means different than a dollar to you; for good, bad or otherwise.  If I was working off a shoe-string budget, I would most likely go with snap-frames.  You can invest in a nice design and have it printed on a poster and placed within the frame.  When prices or menu items change, your on-going costs are limited to printing a new poster.  With a little more capital, I would start to take a look at the landscape of my location and consider more traditional menu boards (magnetic, backlit, etc.) and learn about what would make the most sense.  Lastly, there is no question that I would entertain digital menu boards if my budget allowed.  The capability to test market, promote and change on the fly is unparalleled.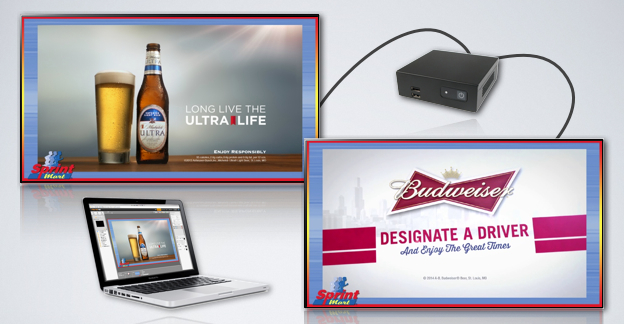 Do you think adding a drive-thru is worth it?
There is no question that adding a drive-thru to your location can add some significant revenue.  Depending on what you hear or read, locations with a drive-thru see 60-70% of their total sales go through that area.  Now the question remains, would that 60-70% go inside your restaurant if the drive-thru didn't exist.  In my opinion, to assume that it would is an aggressive thought.  Consider the mom with the 3 kids in the back, the elderly, those under dressed for public viewing, and the plain lazy = there is a large market for those who do not want to get out of their car.  Getting back to whether it is worth it; a lot depends on your available budget and the physical traffic that goes by your location.  If there has never been a drive-thru at your restaurant in the past, you'll run in to a lot of red tape.  Depending on the state, town or village your business is in, you can expect everything from the traffic patterns down to the landscaping that would be affected to be looked at.  This all takes time and money.  If there has been a drive-thru at your location before (i.e. you took over an old Taco Bell), then I think it is an absolute no-brainer.  Most of the aforementioned legwork has already been done.
How much should I allocate for all my point-of-purchase signage (menu boards, graphics, displays fixtures, etc.)? 
This all depends on what your overall goal and strategy is.  I am not going to sit here and speak as though I am on an ivory tower, but the fact is, a lot of people open their locations with a very loose business plan in place and with very little focus on advertising and marketing.  We have addressed the idea of "If you build it, they will come" or "If they come, then you build it" here.  We believe that there is a place nestled in the middle of these two statements that makes the most sense.  With that in mind, if you are starting out and have a $3,000 budget, you would be able to get a traditional menu board system (3-4 panels), a display fixture or two, way-finders and a small number of mounted graphics to enhance the décor.
If I have a very limited budget and can only get one thing, what should it be?
The obvious answer is a menu board system of some sort.  There are several cost effective solutions to consider.  That aside, I would recommend having at least one board/panel that you can use to write daily, weekly or monthly specials on.  Having this capability not only helps in yielding additional sales, but also engages your customers on an on-going basis.  Speaking of the board, I am not talking about a wet/dry erase board or a chalkboard.  They are far too plain and hokey looking.  What I would suggest is using a 0.5" substrate that has a decorative vinyl print mounted to it and a clear overlay applied.  The usability is the same as the aforementioned options but the result is much more attractive and can be branded.  The best part, it is inexpensive.
To Summarize:
There are many factors that go in to what would be the ideal menu board system for YOU!
Adding a drive-thru to your location could be the single best business move you ever make, or it can take years to see a return on investment.
Providing a definitive budget for all menu board and POP needs is difficult, however if you want to start off on the right foot and enhance your décor, a $3,000 budget will get you going in the right direction.
Menu boards are a must, but having the ability to test market and add specials and promotions can be critical to your success, specifically for single unit locations.
Have any other questions that you need answers to?  Give us a call today and we'll do our best to help you out!  888-235-2579