It's difficult enough to change a painted or printed menu sign in the dining room of your QSR, and it's even more difficult to do so in your drive-thru lane.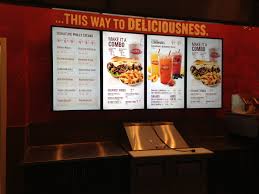 Two employees have to drop whatever else they are doing for the task, one to hold the ladder, and the other has to climb it to change the sign. And, it has to be done for each change of menu, such as at breakfast lunch and dinner. And how will drive through customers know about any one-time specials or specials-of-the-day unless the signs are changed yet again?
Digital Signage to the Rescue
All of these problems can be alleviated through the deployment of digital menu boards. Instead of a major production, changing the menu as often as you like can be effortlessly accomplished through an app on your smartphone.
A relatively new possibility is that of car-side digital signs, keyed to an app on the customer's smartphone that works with her ordering history, she expressed preferences, and with what's available today from your kitchen. The customer speeds through the process gets what he really wants, and your throughput and revenues soar. In addition, everything is patched through to your POS system and the total is seamlessly deducted from her debit card, and still, more time and effort are saved.
And beyond the efficiency, there is the fun – for the customer. Your best QSR customers are the young, who were practically weaned on digital technology. They prefer electronic communication to interfacing verbally, and that's with their friends and family, never mind with QSR service personnel. This is the way like to do business, and if you accommodate them, they will tell all their friends – digitally, of course.
Drive-thru Digital Signs need to be Outdoor Tough
Your employees won't have to endure rain, sleet, snow or the summer's heat after you've installed digital menus in your drive-thru lanes, but the signs themselves must so make sure that the ones you buy are up to the task. They also need to be able to communicate with your kitchen and your POS system in order to make the most of this powerful technology. For these reasons, you need to do your homework before you make a commitment, and make sure you are dealing with a vendor you can trust.
Origin Display Group | originmenuboards.com | origindigitalsignage.com | 888-235-2579
Gary Elinoff