Adding or having a drive-thru menu board could be one of the best things for your quick-serve restaurant.  It is an additional revenue stream, allows you to serve more customers and elevates their satisfaction.  However, if not given adequate thought it could prove to be both a sizable opportunity and investment wasted.  The anatomy of a drive-thru install can take on many looks.  Although to become "fully-functional" you'll need a drive-thru menu board and communication system.  Canopies, order confirmation boards, timers, presell signs, etc can be chosen from the outset or added at a later time when you have gotten the traction you have set out for.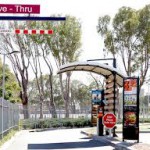 In order to get the adaptation you are looking for, there are three simple, yet critical areas to address to make sure your customers drive-thru experience is fluid from the time they order to the time of pulling away with their grub.
1- Work with the right people- A lot of times it comes down to dollars and cents.  It is just too bad that a lot of folks choose not to use their common sense.  You should go in to the drive-thru project knowing that there is going to be a decent expense.  Between the equipment, sign, prep-work and installation, you should budget for around $10K (give or take depending on needs) to achieve a "fully functional" drive-thru as noted above.  All too often, people will skimp where they can and get the menu board made by a sign company, the communications from "take your pick" company and the install done by a GC that they have done work with in the past.  What occurs is a disjointed process with each company reaching out to each other.  "Where should I place the drive-thru."  "Is the speaker and mic coming with the system?  Is it a part of the sign?"  "When is the sign going to be delivered?"  It goes on and on.  Add to this the fact that people are getting signs made and designed by companies that have no experience in the field.  What happens is there are a number of areas that suffer; durability in adverse weather, flexibility in changing graphics, ease of reading/finding (menu items) for your customers.  It becomes clear that the few hundred you stand to save isn't worth the eventual project management you'll have to take on and the pending headaches.       
2- Placement is key- There is no doubt that some times you are restricted by your location and the township your business is in.  Both can dictate where you put your sign and how much room you have.  With that said, perceived wait time is a huge factor that drives customer satisfaction.  If you do not have ample space between where you order and and where you pick up, there will be a negative effect.  Picture driving up to a drive-thru that is backed up so you have to wait to place your order, then only have a car or two between the person at the window and yourself, then pulling up and having to wait for them to finish not only your meal but the car or two in front of you as well.  That is a whole lot of time in "wait" mode.  Ideally, you have enough space for a car at your window and at least 2-3 cars behind leading back to your menu board.  This way, at busy times you should see less waiting to order and the food should be ready by the time they arrive at the window.
3- Analyze your menu & design appropriately- This might be the most important.  Specifically owner/operators are passionate about their menu and they want the whole world to see it but often times this isn't plausible with a drive-thru.  The captive audience you have inside your location is taken one step further for a drive-thru.  Once they are there, they ain't going no where so what you have for them to view is highly important.  You'll obviously want to list your staples and popular items but much of the focus should be put on preparation time.  You cannot have people waiting on something that is going to take 10 minutes to make.  Strip your menu down and sell what you want to sell with the caveat that it can be made quickly.  Once you're menu has been identified, (see #1) design your graphics in a way that is easy to read and navigate.  Having a short story novel on your board is going to frustrate people and make them anxious as a line begins to form behind them.
Each one of these areas have several underlying factors that need to be addressed, but the one's listed have to be at the forefront of your mind.  Where to start?  Give us a call.  info@origindisplays.com | 888.235.2579