On May 5, 2017, all food service businesses, including QSR's with twenty or more locations, will be required by the FDA to post calorie counts and other nutritional information for all their standard menu items. Fortunately, for those businesses employing digital signage, compliance with this much-anticipated mandate will be a breeze, because this information can readily be displayed on digital menu boards.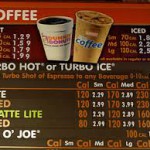 Many states and localities already require this information. Contrary to initial expectations, it hasn't been a turn-off to customers at all.
Great for Patrons & Restaurateurs
US consumers now get over thirty percent of their daily caloric intake away from home. Almost all of us have to watch our calories, and many have other specific needs, such as limiting salt, saturated fat and for getting enough fibre. Previously, information on what we eat at restaurants was hard, or even impossible to come by. The result – fewer meals are eaten out, and even brown bagging. Not anymore
Now that customers know exactly what they're getting in their food, the greatest reason not to eat out has now been eliminated. Diners can now be confident about what's on their plate. Upselling is made easier, too. For example, if the onboard intelligence contained within the digital display system determines that the customer is interested in low-calorie options, it can then offer diet sodas or salads with low-calorie dressings to complete the customer's meal, thereby keeping the calorie count low without causing a simultaneous downsizing of the meal's cost.
Where to place nutritional information 
One of the great advantages of a digital menu board system is that information, including nutritional information, can be changed at the touch of a button, so if you display a new item, the associated nutritional information is also brought to the customer's attention. The requirement is that it must be readily and effortlessly available to the customer, but it doesn't necessarily have to be front and centre along with the description, picture, and price. But, you may decide that it's in the best interests of your bottom line to do so because, for an increasingly large proportion of your diners, the meal's calorie count is even more important than it's price.
Origin Display Group | originmenuboards.com | origindigitalsignage.com | 888-235-2579
Gary Elinoff