Failing to integrate your digital signage with the existing infrastructure is one of the biggest missteps that you can make.  If you want to make your digital signage strategy successful, here are a few things to keep in mind.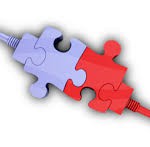 If you're running a retail-based business, make sure to keep in touch with your customer base.  One of the best ways to do this is to use information from inventory to find out what people are buying and develop sales and specials accordingly.  This might seem obvious, but you'd be surprised how many sales end up missing the mark because the people developing them don't pay attention to their customer base! But the crucial step comes after you've created the perfect sale: promote sales through your digital signage.  It's practically a no-brainer that the best way to advertise something is to put it right in front of your customer's face, so take advantage of the technology you've invested in to do just that.
Even in businesses other than retail, it's important to use any information you have about users in order to develop a digital signage strategy.  Keeping your promotions in touch with employees as well as customers or clients is an essential aspect of digital signage integration.
Additionally, it's important to integrate the message in your digital signage with your company's overall message.  For retail or food service, that means syncing up ad campaigns so that menu boards or other on-location signs reinforce what people see on TV, in their email, or on billboards. In an office setting, that means that memos, company meetings, and digital signage information all come together to make a coherent message, so that employees understand what is expected of them.
What all this comes down to is using digital signage in a strategic way and incorporating it into your overall business plan. It's important to remember that digital signage isn't just a flashy gimmick—if you use it right, it can be a valuable addition to your long-term business strategy.
Origin Display Group | originmenuboards.com | origindigitalsignage.com | 888-235-2579